In the three months since we'd written about QR codes, their usage by advertisers has seen strong traction. J P Morgan Chase's ad in the FORTUNE magazine and Bosch's billboard are just two random examples of QR codes found in the print and outdoor media. Overhyped as it sounds, there's some truth behind the claims made in report by Mobio Identity Systems that QR code "scans are skyrocketing".
However, after a quick-and-dirty study of the user community during the same period, we learned that:
Many users are unfamiliar with QR codes and end up doing nothing when they see them.
The few that have heard about QR codes hesitate to scan them because they're not sure what would happen next (typical user concerns include "malware", "identity theft", and so on).
The skeptics amongst them question why advertisers simply can't display the URL of the website to which the QR code anyway leads them
Very few users feel motivated to download and install a QR code reader application, without which they wouldn't be able to scan the codes.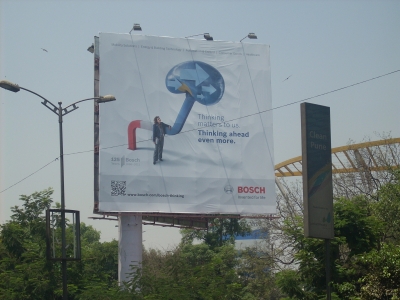 As with any new technology, the first two issues are quite natural and can be overcome with a little guidance in the ad. Like we'd done in one of our print ads that used QR codes, it would help to provide a short explanation of what to do when the reader sees a QR code (e.g., Point your phone camera at the QR-codes on each corner of this ad to check out GTM360 on your mobile phone) and what to expect when they scan them (e.g., Follow GTM360 on LinkedIn).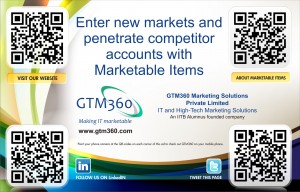 As for the third point, it has a straight-forward response: To maximize conversion of visitors to buyers, ads increasingly direct readers to separate landing pages instead of the homepage. Most landing pages have long URLs (e.g, http://www.gtm360.com/EMAIL360/index_email360.php) that are painful to type out using smartphone keypads, so QR codes provide a frictionless alternative.
However, the last issue is not the least issue.
Contrary to reports claiming that many latest models of smartphones come pre-installed with a QR code reader application, we couldn't find evidence of this in iPhone 4, iPhone 3GS, Samsung Android or Nokia E7.
Agreed that it might only take a user a few minutes to find, download and install a free QR code reader application on her smartphone, but the question is, why should she bother? As my 13-year old daughter asked me cheekily, "Why the heck should the reader of your ad bother to download and install an app just so that they can follow your company on LinkedIn or retweet your ad? What do they get out of it?"
This question is difficult to answer other than to say that the advertiser has to provide a strong incentive – by way of exclusive content or promotional offer or whatever – to make the download and installation happen.
Which leads us to the following question: Which advertiser should provide this incentive?
Will JPMC incent the download with the knowledge that the user can use the same app to scan QR codes in ads by Citi, Goldman Sachs and other competitors?
There are no easy answers to these questions. At the same time, we do foresee the following ways to resolve this issue:
QR code reader apps offer branding opportunities for individual advertisers, thus providing them with the motivation to incent users to download apps carrying their branding
The incentive is provided by a consortium of advertisers
The onus of downloading and installing the app shifts to users if they see discount stores and brand-neutral merchants making heavy use of QR codes in their ads.
Meanwhile, as the big issues get sorted out, we explored the possibility of using QR codes to solve the narrowly-defined, yet equally important, problem faced by sales and marketing professionals with getting their collection of business cards organized. Most of them collect a couple of cards every day. We all know how cumbersome it is to manually enter contact information from a business card to a PC or mobile phone. General experience with business card scanners hasn't been too great since text recognition supported by most scanners meant for retail use sucks. We thought of solving this problem by converting the contact info into a QR code that is printed on the back of a business card so that, by scanning a smartphone over the QR code, the contact gets added to the phonebook in two taps. We piloted this using the QR code of my business card as shown on the right. It worked fine on an iPhone. On a BlackBerry and a Samsung Android smartphone, we were able to download the contact info successfully into the handset but, from there, we couldn't figure  out how to add it to the phonebook. If any of you readers have cracked this part, we'd appreciate if you could share the procedure you followed by way of comments below.