The other day, during a visit to the local temple, I came across a poster advertising a concert for Carnatic music, which is a South Indian classical music form. I was very keen on attending it. However, since there was a lot of crowd in the temple and I wasn't anyway carrying any writing material at the time, I couldn't note down the singer's name, concert venue and date, or the telephone number of the box office.
By the time I reached home a couple of hours later, I couldn't remember any specific piece of information with which to search for the concert using Google. As a result, I wasn't able to place this concert on my calendar, nor figure out from where to buy tickets for it and the concert organizer lost the opportunity to convert a lead to a deal.
This experience got me thinking if there was any technology by which the concert organizer could've transformed my momentary physical encounter with the poster into an elongated online experience – a sort of augmented reality, if you will – so that he'd be able to stay connected with me and other prospective buyers long enough to have a good shot at selling tickets to us.
Turns out that there is.

Called QR Code, this is  a 2-dimensional barcode that could be printed on the poster. By photographing the QR code from a mobile phone, the prospective buyer could be automatically directed to a website, where they could obtain more information and book tickets for the concert. Assuming that they wouldn't be able to do all this in a single session, they could at least bookmark the site on their mobile phone browser and visit it later.
I got a chance to use this technology a few days later.
2010 happens to be the year that my batch from IIT Bombay completes 25 years after it graduated in 1985. To commemorate the occasion, the IIT Bombay Alumnus Association is printing a souvenir and recently solicited ads from its members. Like all souvenirs are, this one will also be printed on paper and distributed to over 1,000 attendees of the forthcoming Class of '85 Silver Jubilee Reunion event. Since most souvenirs have a fairly short shelf-life, I decided to add QR codes to my company's ad in the souvenir so that people who are interested in my company can find out more about it even after they chuck the souvenir.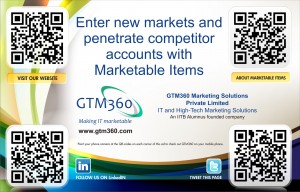 As the above picture shows, the ad contains one QR-code on each corner, which will take a mobile phone user to the GTM360 website homepage, an inner page on Marketable Items, Share on Twitter page and Follow us on LinkedIN page. All the mobile user has to do is to photograph each QR-code with his or her phone camera – the rest happens automatically.
QR-codes can be printed on newspaper ads, T-shirts, product packaging, and a wide range of physical media. However, the full experience calls for fairly advanced models of mobile phones that support a QR-code reader and GPRS connection, so marketers and advertisers might want to use this technology only for products and services that are targeted at relatively high-end, tech-savvy consumers. Otherwise, their efforts at deepening the engagement might backfire on them. More on that in a future blog post.