Encouraged by our experience with the virtual agents on Alaska Airlines and Yorkshire Building Society websites (click here to read Part-1 of this post), we headed towards the website of Milton Keyes Council to check out its virtual agents Shak (male) and Jo (female).
For the uninitiated, a council in the United Kingdom is the administrative body that runs local services such as schools, social services, waste collection and roads in a borough, which in turn is the sub-unit into which each town and city in the UK is divided. For example, Greater London comprises of 32 boroughs of which 12 plus the City of London form Inner London, whereas the 20 remaining boroughs make up Outer London. From my experience with the voice-recognition based bill payment system deployed by London's Tower Hamlets council, I've generally developed a very favorable opinion of the tech-savviness of councils and other government agencies, so was keen on deep-diving into Shak and Jo.
The experience wasn't so great.
Based on my experience with the Tower Hamlets Council, the question "Can I pay my council tax by debit card?", should've elicited a simple "Yes" response. However, Shak beat around the bush by pointing us to several pages like
How much Council Tax do I pay?
How and where can I pay my Council Tax ?
Can you give me more information about Council Tax?
How can I reclaim overpaid tax?
Can I complete my tax return online?
While we might've found the answer on one of those pages, we didn't bother looking – after all, who needs a virtual agent to locate a needle in a haystack?
We moved on to check Shak's response to questions pertaining to current affairs in the borough. We noticed a news item being flashed on the Council's website saying that the Council was on track to save GBP 48 million. Thinking that we'd check Shak's response with this news item on its own website before progressively ratcheting up the complexity to headlines from The Sunday Times, we asked Shak: "How much is the Council planning on saving?"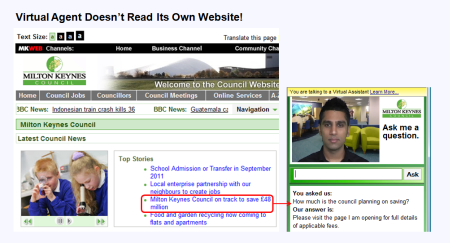 Shak's reply stopped us right on our tracks. Despite the answer being readily available on the Council's website, Shak pointed us to a page containing "full details of applicable fees"!
This stray experience won't lead us to conclude that virtual agents fall short of human interactions. For, like many of you, we also keep encountering extremely inane and frustrating interactions with call center staff, and our  experiences would suggest that it's an insult to describe virtual agents as humanlike.
Let's narrate a recent incident of our interaction with a human customer service representative of a leading private sector bank in India.
A few days ago, I received a flyer by mail from this bank from whom I'd taken a credit card recently. The flyer went on and on about the virtues of registering my credit card for the additional layer of security offered by the bank for online shopping via its Verified by Visaand MasterCard Secure programs. Having already registered my previous credit card for VbV, I decided to follow suit with my new credit card.
However, apart from a cryptic one-liner –  "Log on to www.xxxxbank.com" to register for VbV – the flyer contained no detailed instructions. When I logged on to the bank's website using my regular username and password, I landed on the usual accounts summary page. When I could find absolutely no mention of Verified by Visa there, I quickly logged a complaint seeking information on where exactly I could find the VbV registration link. A couple of days later, I was rudely shocked to receive an email from a CSR of the bank explaining me how to regenerate my Internet Banking username and password, which he gathered that I'd forgotten! Mind you, here was a live human who couldn't get a simple query that had nothing to do with forgetting anything. I replied back to clarify what exactly I was seeking. Long story short, it took eight days for the bank to understand my question and to provide the answer. It finally turned out that the said link for VbV registration was present right on the homepage of the website and had to be accessed before logging in.
This CSR did nothing to justify his being considered intelligent by virtue of being a human being. Any humble virtual agent integrated with a rudimentary knowledge base would perform better.
Of course, I concurrently went through a delightful experience with the support personnel of an online media network called Lijit Networks. My support ticket pertained to issues related to publishing their widget on my blog. Despite the fact that it took 4-5 emails over so many days for my problems to be resolved, at no stage did I get the feeling that there was a brainless nitwit sitting on the other side. For those interested, the full email-trail between me and a highly customer-friendly Lijit CSR by the name of "Jeff" can be found here.
In the final analysis, we believe that virtual agents show tremendous promise and could easily supplant lower-end call center staff. Of course, as web robots, they come with the natural baggage of being perceived as "dumb machines", so marketers of the technology have to use innovative packaging and appropriate use cases so that they can exploit the full potential of virtual agents to penetrate larger markets. Otherwise, they risk seeing the new generation of virtual agents go the same way as the humble paperclip that Microsoft discontinued from Windows XP.