From their early – and much parodied – avatar of the animated paperclip in Microsoft's Clippit, virtual agents have come a long way.
Virtual agents are intelligent Web robots with humanlike persona that have the ability to interact with website visitors in automated dialog, understand users' needs, guide them to Web pages without navigation, cause images to pop up, highlight portions of their screens – anything to help customers get the information they need and complete the transaction they want to. Virtual agents can even operate as a virtual sales assistant, identifying cross-sell and up-sell opportunities. If they cannot answer a question, they can instantly escalate the query to a human customer service assistant via live-chat, e-mail or call-back, using existing call centre management software.
While they're still not as ubiquituous as search bars or live chat windows, virtual agents can be spotted with greater frequency on the websites of airlines, e-commerce, financial services, retail, telecom and other categories (though not healthcare or industrial goods). Leading users include medium and large companies like Aetna, Alaska Airlines, BBC, BT, Continental Airlines, eBay, Finaref, IKEA, London Olympics, Merrill Lynch, O2, PayPal, SFR (Telecom), and Yorkshire Building Society.
Virtual agents seem to be ideally suited for website visitors' questions related to product selection (e.g. Do you do buy-to-let?), pricing (e.g. What's your best price for Boston to Juneau?) and customer service (I left my BlackBerry on the flight, what should I do?).
According to the marketing material of the leading providers of this technology – VirtuOz, NextIT, Synthetix and CreativeVisual, to name a few – virtual agents are positioned somewhere between search and live chat. We recently took a test drive of a couple of virtual agents to get a first hand experience of how humanlike and helpful they are.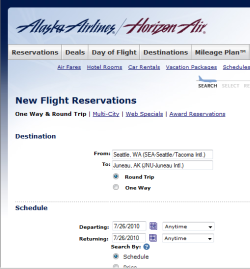 Our first destination was Alaska Airlines which calls its virtual agent "Jenn". Check out some our questions and Jenn's replies below:
———————————————-
You Asked: What is your best price for a ticket from Seattle to Juneau?
Jenn: Pulls up a screen that displays various choices of flights from Seattle and Juneau.
You Asked: Do you fly to NYC?
Jenn: Alaska, Horizon, or at least one of our partners has service to that city.
———————————————-
When told that Alaska Air doesn't fly to Mumbai, we asked the following stupid question just to test Jenn's reaction:
———————————————-
You Asked: Why don't you fly to Mumbai?
Jenn: Alaska Airlines and Horizon Air offer international flights to and from the United States and select destinations in Canada and Mexico. Choose a link to see a display of the cities we serve. For tickets to destinations our partner airlines serve, please fill in your departure cities and travel dates.
———————————————-
Wow, Jenn was not fazed!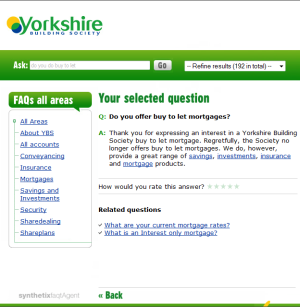 Convinced that Jenn was quite humanlike and helpful, we decided to up the ante with another virtual agent. This one, simply called "Ask", can be spotted on the Yorkshire Building Society's website.
Instead of a straightforward question about their product range, we decided to check whether they offered "buy-to-let", which is a mortgage product I've come across only in the UK. Under "buy-to-let", people borrow money to buy homes for the express purpose of renting them out and use the monthly rentals to cover the mortgage repayments.
Ask replied that YBS regretfully no longer offered this version of mortgage. Although it took one extra mouse click than strictly necessary, Ask's response had the most appropriate tone considering that most banks and building societies in the UK exited the highly lucrative buy-to-let category on the back of negative publicity it attracted amidst accusations of having contributed to the recent subprime mortgage crisis.
In Part-2 of this post, we'll describe our experience with another virtual agent in the e-governance area. We'll then narrate a couple of recent experiences with live operators of two different websites – one, that of a leading Indian private sector bank, and another, of an American online media network. We'll then weigh in on the current positioning of virtual agent technology between search and live chat. Spoiler: Technology and systems integration vendors have a great opportunity to re-position their offerings to achieve even greater market adoption of the virtual agent technology.