"Executive mandate" is often cited as a critical success factor for virtually all kinds of information technology projects.
Whether it involves the development of custom solutions or implementation of ERP or any other type of packaged software, "top management commitment" – which is another term by which executive mandate is sometimes expressed – often finds a mention in many lists of top criteria for ensuring success of a technology initiative.
Such lists also include other criteria, some of which are specific to the nature of the technology and the industry to which the company belongs, and others that are more generic and apply across a wide range of technologies and industries. But, executive mandate ranks near the top in most of them.
Take for example, the following list of factors for overcoming organizational inhibitors in a business intelligence implementation project for the retail industry.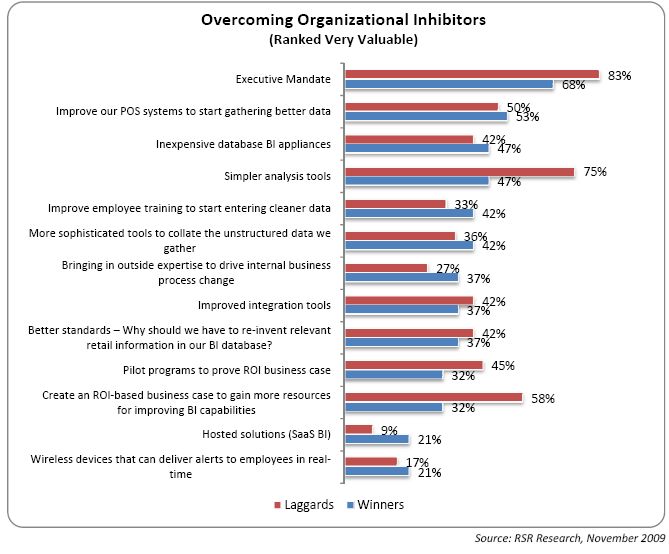 In this list extracted from the recent report "Using Business Intelligence to Help Control Outcomes in an Uncontrollable World" published by Retail Systems Research LLC, "Executive Mandate" ranks at #1 position with a towering lead of 33 points over the second-ranking factor which is related to data quality.
With such and other research reports placing executive mandate at the top of the table, it's natural to expect that package implementers and system integrators would be highlighting the need for garnering top management commitment during project kickoff meetings and at other key stages thereafter. In fact, in all the hype, you can't be faulted for jumping to the conclusion – not intended by research analysts, I'm sure – that the customer simply has to wave some magic wand and top management commitment will follow. 
Except in a few companies that exhibit an autocratic style of management, executive mandate cannot be won in isolation. In most companies, as best-in-class program managers are aware, top management commitment is closely linked to the status related to shared goals, change management, well-trained employees, data quality, usable analysis tools, and other prerequisites. Given that most of these feature in the list of critical success factors, executive mandate is not mutually excluded from them.
Agreed that most of these prerequisites are internal to the customer organization, but package implementers and system integrators can go beyond their traditional arm's-length entreaties about the role of executive mandate and differentiate themselves by acting as catalysts for its achievement. By actively engaging with key customer executives during the normal course of program delivery, they can pave the way for fulfillment of these prerequisites, which will accelerate securing top management commitment.