Reading about the recent rebellion among eBay's small sellers at eBay Live, the auction site's annual jamboree (this year in Chicago), reminded me about my own experiences with eBay and my promise (in my post "Cost of Choice") to write in future about why I'd totally stopped shopping at eBay.
Given my shopping experience at eBay as against Amazon, I'm not at all surprised to learn that eBay's revenue growth in its core business (9%) has trailed the e-commerce market's (around 18%), whereas Amazon's has surged ahead at 32%.
Two of my key grievances with shopping on eBay are (a) you may land up not getting your ordered product just because your seller has problems with eBay with some previous transaction that is totally unrelated to yours, and (b) when you apply for a refund because of (a), eBay resorts to tremendous procrastination and virtually bullies you into giving up your refund claim.
Let me give an example from my personal experience.
I bought an iPod on eBay India in October 2006 and made the payment immediately via PaisaPay. When I didn't get the product even after 15 days (promised delivery period was 3-4 days), I contacted the seller. The seller kept saying that he hadn't received his payment, which was very surprising because I got the acknowledgement for my payment from eBay within four days. When presented with this information, the seller sheepishly admitted that he hadn't received his payment from eBay for his previous sale, hence he was unable to ship my product.
I then filed a claim for refund with eBay in November 2006. From then on, I experienced eBay's delay tactics and efforts to make me give up my refund claim.
For 15 days, there was no response from eBay to my refund claim.
Then came an email asking me to click on some hyperlink and provide details of my order number and payment reference – which is ridiculous because they had all this information on their record and had themselves acknowledged my order and payment. Anyway, I did as instructed.
There was no response from eBay for another 15 days. When I sent a reminder, I was told that my refund was under processing and should reach me in the next 15 days.
No response again for 30 days despite many reminders from me during this period.
Then some "Claims Adjuster" from eBay.com (USA) came on the scene and apologized for the delay and, finally, after another 15 days, I received my refund cheque.
Apart from the delay, what was very irritating was eBay's cheap tricks to make me give up my refund claim. Each time that they responded after 15-30 days, they'd give me only 24 hours to reply with the threat that if I don't get back in this time, they'd consider my refund claim as withdrawn.
The following screenshot of my email interaction with eBay says it all.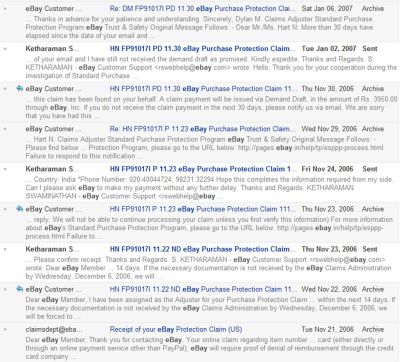 It's no wonder that I decided to stop shopping on eBay after that experience.
Now, from the title of this blog post and from my opening comments, you might be expecting me to say something about my contrasting experience with Amazon. Yes, I will:
In my five years of shopping at Amazon Germany and Amazon UK, I've made over 50 purchases. Not a single deal has gone sour. Do I need to say anthing more?