I read about MoFuse in TechCrunch yesterday.
According to TechCrunch, MoFuse is a service that will take your website and instantly create a mobile version of it, sparing you the development costs of doing so by hand. Click here to read the full post. Best of all, MoFuse is free!
Soon as I read about MoFuse, I was tempted to try it out to create a mobile version of Talk of Many Things (or "mobilize" Talk of Many Things, as MoFuse would say). After a very quick registration process, and a few additional settings, the mobile website was up and running!
You can see a few sample images here.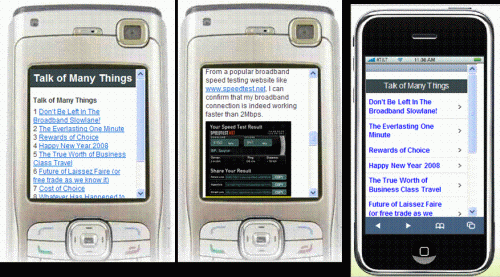 Click on the pictures above to see a preview version on your PC.
To check out the live version, visit http://talkofmanythings.mofuse.mobi/ from your Internet-enabled mobile phone.
All in all, a very easy process, and good enough results for a blog.