The ink on my previous post Indian IT – Turning Crisis Into Opportunity has hardly dried when two Indian IT majors Infosys and Wipro have announced better-than-expected quarterly results. Much as I'd like to attribute their superior performance to the guidance given in my post (!), these IT veterans have been doing all this and more for a long time.
The pall of gloom over the industry's prospects has temporarily lifted. The industry can get rid of it permanently by taking the following measures:
Go up the value chain
Target the CMO organization
Set up component factories
Extract additional revenues from fixed price deals
Redefine digital
I covered the first two imperatives in Part 1 of this post.
In this follow on post, I'll cover the next three measures.
#3. SET UP COMPONENT FACTORIES
There's a lot of buzz around assembling software from prebuilt functionality instead of developing it from scratch. In my two decades' experience in the industry, the pressure for reuse keeps cropping up whenever the economy goes through uncertain times, like now. In Why Is Software Still Built From Scratch?, I'd shared my thoughts on how to crack the Holy Grail of assembling software from reusable components. To recap, it requires a repository of components and a business model that together let customers
discover software components in an open catalog
find out their specifications and select which components they need to assemble their system with
buy the selected components outright without onerous licensing terms or dependency upon any form of first- or third-party IP
be assured of getting the same functionality throughout the life of the software, and
modify components without having to share the source code with external entities.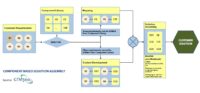 Product companies won't like to get involved in this endeavor since it goes against the grain of their license / subscription-based business model.
On the other hand, this is right up the alley of services companies. Indian IT Services industry should take the lead to set up component factories for making reusable code. A few enterprising services companies have already done this – I know a fintech that set up a component factory for producing electronic billing components and used co-visioning to assemble eBilling solutions from these components instead of building each solution from scratch.
For help with spec'ccing resuable components and developing business models like co-visioning, please contact us.
#4. EXTRACT ADDITIONAL REVENUES FROM FIXED PRICE DEALS
According to common wisdom, the value of a fixed price deal is frozen at the time of signing the contract. Accordingly, the notion of extracting more revenue from a fixed price deal may sound like an oxymoron. But that's only because a combination of delivery pressures and a general lack of commercial acumen in the delivery organization makes most Indian IT project managers forget clauses like "Fixed Price for Fixed Scope" and "Change Control" that form a part of a fixed price contract. And savvy customers like Dilbert's pointy-hair boss have found nice ways to hasten the memory-loss!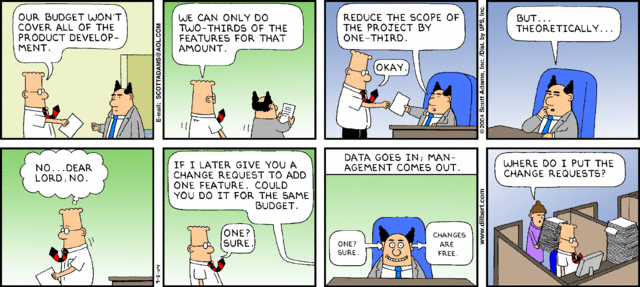 For the uninitiated, a fixed price contract means that the vendor agrees to deliver a fixed scope of work for a fixed price. Normally, any fixed price contract has a change control clause that allows a vendor to charge separately for additional work not covered in the original scope. In medium to large software development projects executed over several months or years, the scope rarely remains fixed. Changes to scope happen in the form of new functionality, additional support, unforeseen training needs, sudden requirements for data migration, and so on. They're driven by factors related to business, regulations and overall program. As and when the scope changes, a fixed price contract allows the vendor to raise Change Requests to provide additional services for an additional price.
To take an example, one of the go-live requirements of the program mentioned in point #1 of my earlier blog post entitled Indian IT – Turning Crisis Into Opportunity was reconciliation of payment transactions between the said bank's existing mainframe-based accounting system and the new payment scheme. Before the program began, the Bank had entrusted the development of the reconciliation module to the owner the accounting system. However, midway through the program, the application owner was diverted by a rush job from another program. Since mainframe skills were in short supply, the application owner threw up its hands and regretted its inability to deliver the reconciliation module within the pre-agreed timelines. This threatened to derail our program. We stepped in and developed the RECON module and billed ££££££ for this additional work.
This is how vendors can make more money from fixed price deals.
Of course, doing so in actual practice requires business skills on the part of a vendor's delivery organization because people like Dilbert's pointy-hair boss can be found in all companies – hence the term "extract". When we presented our solution for the RECON module, the Executive Sponsor and MD of the bank cooly turned around and said, "How can a payment system not have reconciliation functionality? Don't expect me to pay for such a basic feature". Some day, I'll tell you how we overcome this objection and turned this Change Request into a source of revenue – instead of buckling under pressure and letting this additional work cause a fixed price project to bleed. Spoiler Alert: We not only earned additional revenues in the process but also won brownie points from the bank's C-Suite for keeping the program on track.
#5. REDEFINE DIGITAL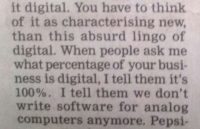 When asked how much digital contributes to Infosys' revenues, its CEO Vishal Sikka quipped, "100% of our business is digital. We don't write software for analog computers anymore."
While Mr. Sikka may have said this in jest, many IT vendors seem to perceive digital as nothing more than good-old computerization; in other words, their version of digital involves typing information into a computer form instead of writing it on a paper form by hand.
When a vendor does digital transformation based on this paradigm, a substandard solution results. At best, the software matches the paper-based process but lacks intelligence or personalization. At worst, the software is so cumbersome that it drives users back to the paper-based process.
I came across several examples of poor digital transformations in government and the private sector while someone in my family applied for 20+ products / services in the last year viz.:
Apply for Income Tax PAN card
Register for courses at a private college
Apply for a new connection with a private sector Mobile Network Operator
Open a fixed deposit at a private sector bank.
Barring one or two exceptions, I preferred paper. Most digital processes had lousy CX. To give you an example, one of them asked me to upload a photograph complying with the following specs: 3.5 x 5 cms, 300 DPI, PDF, <50Kb. There's no way an average user of this service would be able to create such an image file. I took me an hour or two but I managed the feat since I had access to a scanner and a couple of image manipulation tools. After jumping through several hoops, I hit the submit button, only to be informed that I was not eligible for the online route. The website told me to print the application form and snail-mail it to a postal address. I couldn't help noticing that it was so much easier to paste a passsport-size photograph on the paper form compared to the hassles I went through to upload the image file on the website.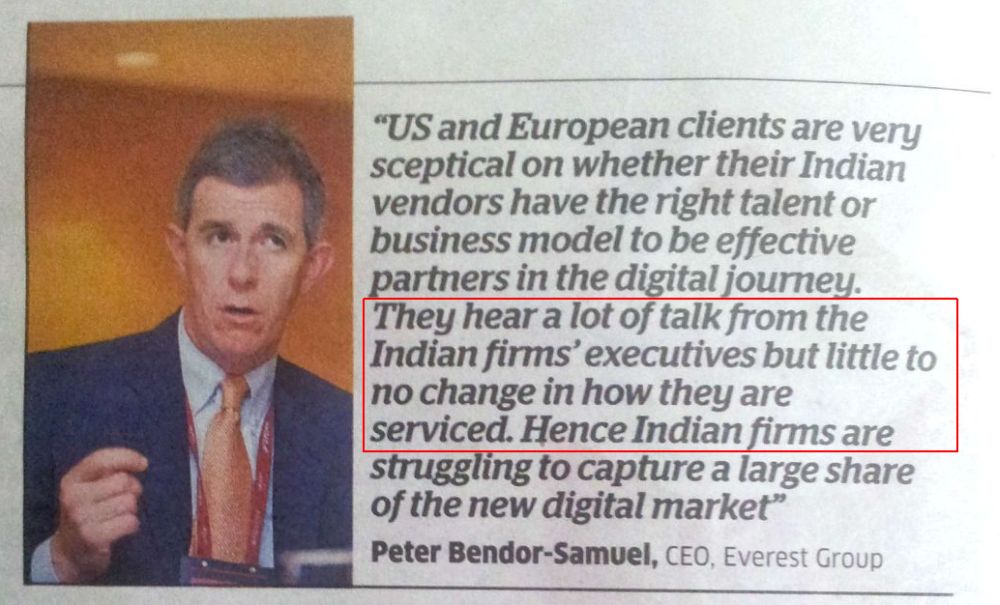 Vendors doing such substandard digital transformation work will have a tough time persuading customers in mature markets that they're the right partners in their customers' digital journey. Not surprisingly, Indian vendors are "struggling to capture a large share of the new digital market" in the USA and Europe, as highlighted by Peter Bendor-Samuel, CEO of outsourcing advisory firm Everest Group.
Indian IT should pause to rethink its approach to digital. Digital transformation is not just computerization – that ship sailed several decades ago. True digital combines the latest in forms, social, mobility, analytics and AI technologies with best practices in UI, UX and CX to deliver modern solutions that elevate customers' revenue, profits and customer experience to the next level.
When applied to the above example, going truly digital would mean redesign of the software such that it has (a) a microservice that automatically creates an image file of the required specifications from a standard passport-size photograph uploaded by the user, and (b) a gate at the start of the digital journey to determine whether the given user is qualified for the digital process or needs to be diverted to the paper-based alternative.
Kudos to @VICE Media for building a microservice that automatically corrects aspect ratios of distorted images. https://t.co/FRgYFsPaI2

— GTM360 (@GTM360) June 9, 2017
If they truly get digital, Indian IT companies can increase their share of large digital transformation deals from their core markets in the West. On the other hand, if the industry continues to do pseudo-digital work, it will dig itself deeper in the hole that the media claims it has fallen into.
---
These are just a few imperatives that I could think of.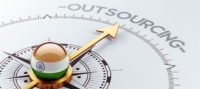 I'm sure there are many more areas in which Indian IT + ITES can play a vital role. Vivek Wadhwa, Distinguished Fellow and Professor at Carnegie Mellon University, offers a few pointers in his Times of India article entitled "Indian IT needs to reinvent itself for the age of automation and AI":
Bring manufacturing back to USA by helping US firms design new factory floors and workflows and install robots
Management consulting for optimizing supply chains and inventory management
Manage manufacturing and construction operations remotely.
Services has a lot of headroom for growth, as highlighted recently by Mr. N Chandrasekharan, ex-CEO of India's largest IT company Tata Consultancy Services and currently Chairman of TCS' holding group Tata Sons. There's no shortage of ways in which Indian IT companies can ward off the looming crisis. If it gets its act together – as it has done several times in the past – the Indian IT industry can scale newer heights.