Mr. N Chandrasekharan, former CEO of India's largest IT company Tata Consultancy Services and currently the Chairman of Tata Group from January this year, lashed out at detractors of the IT Services industry recently.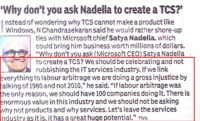 I totally agree that:
Indians should be celebrating an industry that has grown from nothing to US$ 150 billion in revenues in 30 years
India should be doing more in an industry that is clearly aligned with its strengths
There's huge headroom for growth in IT Services.
That said, India's IT Services industry faces growing competition from Brazil, Central Europe, China and other wannabe-offshore destinations. Therefore, it's necessary for the industry to think of new ways to maintain its lead aka innovate and create Intellectual Property.
Normally, innovation and IP are associated with software product companies.
People assume that IT Services comprises of mundane work and offers little scope for innovation and IP.
The notion is further perpetuated by the following practices that are fairly common in the industry:
Programmers and Project Leads working on a project get excited about some new facet of technology or programming language they've used in their project. Automatically, they tout that as innovation. But, when viewed against the prism of market, most their claims fall flat
Project Managers / Delivery Managers responsible for the project are not very enthusiastic about uncovering innovation in their projects. Their apathy stems from the belief that, since source code developed in a services project belongs to the customer, they can't do much with IP, even if they find it.
I totally disagree.
In my experience of over two decades in the IT Services industry:
I've found nuggets of true innovation in many projects. Just that they remained hidden because they didn't float the project team's technical boat
I've come across industry players who regularly packaged services innovations in ways that fully safeguarded their customers' IP rights
I've seen the use of innovative business models like "co-visioning" to take service innovations to market in collaboration with customers.
But, because of the aforementioned industry practices, it's hard to spot services innovation from the inside. Unlocking it often requires an "outside-in" perspective. We use the following structured methodology to help IT Services companies identify and monetize innovation and IP:
Discover capabilities by deep-diving into projects
Create marketable offerings that are centered around resolution of business pain areas related to revenues, costs, risks, and so on
Use our proprietary STRADOF framework to identify differentiators like domain expertise, dedicated practice groups, engagement models, optimum size, hosting infrastructure, etc.
Develop case studies and offering detail notes
Spec proof-of-concepts
You can find more details and success stories at GTM360 for Software Services Companies.
If you need help with identifying and monetizing your services innovation, we're there!