I wrote this blog post four years ago after reading this article in Economic Times.

Not wanting to sound alarmist, I decided to can it. I revisited the post many times since then and I stuck to my decision each time.
Until I read this question on Quora a couple of days ago:
This is when it struck me that the anxiety I felt a few years ago when I read the bestseller by Michael Lewis has probably spread to a wider audience after the movie version of the book hit the screens last month. Therefore, I decided against keeping my thoughts to myself and publish the post. Here goes:
———-
Banks have huge exposure of loans to both builders and home buyers.
Exposure to Builders: INR 1.2 lakh crores = US$ 24B
Exposure to Home Buyers: INR 2.5L lakh crores = US$ 50B
Sales of new homes have been hit by high prices of real estate. I've my own views on whether Indian real estate prices are reasonable or not. But, since prices are decided by an interplay between supply and demand in a free market, I'll keep my $0.02 on this subject to myself. That said, a broker I know told me that he hadn't closed a single deal in the past month, which is apparently a first for him in his eight-year career.
Despite lukewarm sales, builders are not reducing prices. This has led to an impasse in the Indian real estate market. This has hit the government in two ways:
Depressed sale of new homes has slashed government's revenues from stamp duty and registration
Government-owned public sector banks are staring at a sizable chunk of their real estate loan portfolio turning delinquent if home sales are stuck where they are.
According to the aforementioned ET article, the government has told CEOs of government-owned public sector banks to put pressure on builders to drop prices and to instigate home loan takers to push builders to execute projects on time.
The government's suggestion sounds well-placed because, by virtue of having lent such huge sums, banks are in a pivotal position to intervene with builders and home buyers to break the current deadlock.
How're banks responding? They're reportedly asking the government to appoint a real estate regulator, whose role it'd be to "tackle malpractices in the sector, including lack of transparency about the size of the property or the date of completion of projects".
Whaaaat? I didn't expect banks to act on the government's advice immediately. But I was shocked by their pushback for several reasons:
Why do banks want a regulator to do their job? Aren't they supposed to grant loans only after whetting a borrower's project plan and gaining full visibility into basic parameters like size and timescales?
Since when has lack of transparency become a malpractice? Very few banks give reasons for rejecting a loan application. Can their rejected borrowers sue them for malpractice citing lack of transparency?
How come banks didn't insist on a real estate regulator when they decided to lend such huge sums to builders?
Why are they raising the red herring of a regulator only now when the government is putting pressure on them to use their position to rev up the economy and, in the process, prevent their own loan portfolios from becoming Non Performing Assets (NPA)?
Not finding any logical answers, my thoughts drifted to The Big Short, the non-fiction book by Michael Lewis. Released in 2010, the book explained why American banks relaxed lending norms and opened the floodgates of mortgages in the first half of the 2000s, which triggered the subprime mortgage crisis in 2007.
I began wondering if similar factors are in play in India now and whether they'd lead to the same consequences as in USA.
———-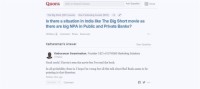 The NPA problem faced by the Indian banking system has stemmed from loans made to real estate, infrastructure and a few other sectors. To that extent, the above real estate-centric post won't fully explain the reasons undergirding the looming crisis. But, since it captures the NPA zeitgeist accurately, I decided to publish it without any change.