Separating product from marketing is never a great idea for any type of technology but, for Software-as-a-Service, it can be a recipe for disaster. That's because SaaS functionality is a double-edged sword: Get it right and it can aid your marketing; but copy it blindly from your onpremise version – or otherwise get it wrong – and it could wreck your marketing.
Let me provide some background on SaaS marketing before deep diving into this subject.
As leaders of tech companies know, unlike onpremise software, there's no "pot of gold" at the end of the SaaS sales cycle rainbow. With their pay-per-use or subscription-based revenue model, SaaS vendors are always in a "sales mode" and must ensure that their marketing runs like a well-oiled engine.
The key goals of SaaS marketing are:
Upgrade trial / freemium users to paid plans
Increase user count
Push customers to select / upgrade to higher plans.
A product's basic feature set can play a major role in enabling – or retarding – the accomplishment of these marketing outcomes.
Let me explain this with the help of the following real-life examples.
PRODUCT 1: SOCIAL MEDIA DASHBOARD
For onpremise software, it's considered good UX design practice to show only relevant menus and options in order to reduce clutter and focus the user's attention on their everyday tasks. As and when upgrades happened – typically once in 12-18 months – their screens would be reconfigured with the new features.
Under SaaS, the traditional UX paradigm poses a major challenge: If users never knew what features they could get on a higher plan, why'd they upgrade to it?
To overcome this challenge, best-in-class SaaS products provide visibility of every feature to every user, whether their current plan supported it or not. By tickling their curiosity about the excluded features, the product can gently prod users to explore upgrades to higher plans. Hootsuite does this well in its social media management dashboard cloud solution by:
Automatically displaying the Pro upgrade screen whenever the user wishes to link his sixth social media profile (the freemium version supports up to five profiles)
Giving a snapshot of what's available in its premium Analytics module
Amplifying visibility for upgrade by placing a "Upgrade to Pro" button just next to the Search bar, which is one of the most frequently features in the software.
I must hasten to add at this stage that Hootsuite doesn't stop with the above product-related tactics. It executes several marketing  campaigns on a regular basis to trigger upgrades by offering deep discounts on its premium plans.
PRODUCT 2: LEARNING MANAGEMENT SYSTEM
Initially developed for onpremise deployment, the developer of this LMS software wanted to port the software to the cloud. Its engineering team treated the migration as a mere change in deployment method and left all product features unchanged.
A year after the SaaS version went live, less than 5% of the customer's staff strength had signed up for it. This was disturbing since every employee of the customer company was considered a potential user when the deal was finalized. Needless to say, revenue trailed expectation by a wide margin.
We were called in at this stage. After a quick review of the software and a site visit to the customer's office, we could identify the culprit: The cumbersome process of onboarding new users to the SaaS version.
To give a little bit of the background, under the older onpremise regime, the vendor would contract for a certain number of user licenses in advance and collect the License Fee upfront. Any increase in user count would go through a formal license upgrade process. Therefore, it made sense for the vendor to design the software in such a way that it either didn't allow new users to be added automatically or, if it did, it was only after a detailed registration process. Our customer opted for the latter option.
However, under the SaaS regime, there was no offline contracting process for addition of new users. As the word spread, new users expected to simply click a button to start using the software. However, since the registration form – and all other features of the onpremise software – were left unchanged in the SaaS version, users saw a long blank form. This proved to be a major friction hotspot. Many users got frustrated and abandoned their attempt to onboard the software. This explained the slow growth in user count of the SaaS version.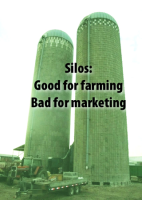 After completing our root cause analysis, we recommended a total revamp of the new user onboarding functionality for the SaaS version. According to the features we specified, new users would only need to enter their email address to seek access to the software. Their name, department, location, telephone extension, cost center and all other required information were automatically fetched from the company's Active Directory and seamlessly forwarded to the respective SBU head for authorizing the new user addition.
The new feature led to a sharp increase in user count and subscription revenues.
*****
As is clear from the above examples, a well-spec'ced SaaS product can advance marketing and a poorly-spec'ced one can impede it. That's one of the reasons we caution cloud-computing software companies against delinking their product from their marketing.
Sales-Marketing alignment is passé. It's time to embrace Product-Marketing alignment as the new credo in the world of SAAS.