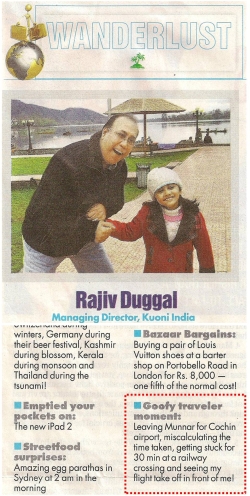 In the Wanderlust section of a recent Corporate Dossier supplement of The Economic Times, Mr. Rajiv Duggal, Managing Director of the leading travel agency Kuoni India, recounted his following goofy traveler moment:
Leaving Munnar for Cochin airport, miscalculating the time taken, getting stuck for 30 min at a railway crossing and seeing my flight take off in front of me!
When I read this, I was reminded about my near goofy traveler moment several years ago.
After visiting a few customers around Itarsi in Central India, I was headed back to Itarsi railway station to catch a train to Bhopal, which is where my company's area office was located. Just as my bus was nearing Itarsi railway station, the barrier of a railway crossing on the way came down and my bus had to stop there. After 15 minutes of waiting, I got a bit jittery about missing the train. In those days – hopefully not any longer – missing a train in those parts of India often meant waiting for almost a day to get the next train.
Five minutes later, I decided that I'd waited long enough. I got off the bus and decided to run to the station even though it involved ducking below the barrier on both sides, dashing across the railway tracks and sprinting for about a kilometer beside a national highway.
By the time I reached the railway station, my train to Bhopal had already pulled into the platform. Huffing and puffing, I made it to my coach with just a few seconds left for the train to depart. As the train slowly pulled out of Itarsi and made its way to the level crossing, you can imagine my sheer joy when I saw the level crossing still shut and my bus standing exactly where I'd jettisoned it around 30 minutes earlier! Had I hung around in the bus until the barrier lifted, I too would've experienced a Duggal-like goofy traveler moment of watching my train go past me!
If I ever make it to Wanderlust, I'd have to think of at least one – or two, as in the case of Mr. P Balaji, MD of Sony Ericsson India – goofy traveler moment of my own. But, until then, let me stay with this ungoofy traveler moment!