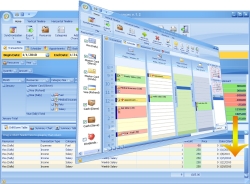 To paraphrase a Bob Dylan classic, "How many WeSabes and Kublaxes must shut down before PFMs call it a day?"
Looks like I'm not the only one who is intrigued by this question. Writing from the sidelines of FinovateEurope2011, a financial services technology innovation conference that was held in London recently, Erik Bogaerts cheekily offers the following headline for news stories covering the event:
"By 2014 there will be more PFM solutions on the market than banks"!
Bogaerts feels that the lack of a standard format for B2C banking information exchange is responsible for taking the steam out of the frenetic growth of personal finance management applications in their heydays. Click here and here to read my views on PFMs from that era, including why I'd termed them P2FM, or Personalized Personal Finance Management.
Fact is, there are standard formats like OFX and QIF for retail banking statements. But what is lacking is a way by which the user can allow the P2FM application to download her transaction statements – and nothing else – from her Internet Banking account.
Under the circumstance, the user is left with the following options:
Share her Internet Banking credentials with the P2FM trusting that the immediate ecosystem comprising the P2FM and its partner(s) and any potential hackers won't abuse the carte blanche they receive to do virtually whatever they want once they're inside her Internet Banking account for the stated purpose of downloading her account statements
Avoid sharing her credentials with the P2FM, and instead log on to her Internet Banking account by herself, download her account statements in one of the standard formats (ex: OFX), and upload them to the P2FM's website.
Although the first option is convenient and is supported by virtually all P2FMs, it faces the major challenge of having to allay the aforementioned security concerns of users. Click here to know more about my reaction when I reached this option during my registration on Mint.
A few P2FMs do offer Option 2 but it's very cumbersome to use. As I'd explained in this post, it therefore undermines the value of P2FMs for almost all but the most financially hard-pressed users.
This unresolved dilemma presents the biggest barrier for large scale adoption of P2FM applications although that hasn't stemmed the steady flow of new entrants into the industry nor stopped reminding me of the Dylan song.