GTM360 Marketing Solutions and Talk of Many Things wish its customers, partners, associates and readers a Merry Christmas and a Happy New Year 2011.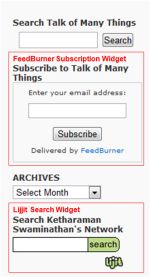 We acknowledge with thanks the following tools introduced in 2010 that have helped enrich Talk of Many Things.
Thank you for your continued interest in Talk of Many Things and look forward to staying in touch through 2011.
Before signing off, let's leave you with the list of the ten most viewed posts published on Talk of Many Things in 2010: