The marketable offerings are created, the email flyers, telescripts and other marketing collateral are ready. It's now time for business development executives to reach out to the target market via email blasts and  telephone calls in order to create awareness and generate leads. This is when they need a Target Mailing List comprising of companies and contacts belonging to the addressable market of each of their outbound marketing campaigns.  
Maintained in Excel spreadsheets or CRM systems (e.g. SalesForce.com, ACT, etc.), a Target Mailing List would typically contain 2-3 contacts per target company and the following minimum contact info per contact: full name, title / designation, email, direct telephone number, and country.

Additional information like city, postal address, contact's birthday, and so on, are useful at later stages of the sales cycle that involve face-to-face meetings and rapport-building, but are not mandatory at the time of kicking-off email- and telephone-based outbound marketing campaigns.
To accelerate the development of a Target Mailing List, marketers might choose to take up subscriptions to Jigsaw, onesource, Hoovers and other broadbased contact list providers or buy them outright from Glenbrook, GTM360, and other special-purpose mailing list providers.
The two key considerations in selecting a contact list provider are (1) Coverage, and (2) Quality.
Coverage refers to the breadth of contacts available for a given campaign. For example, if you're planning to execute a campaign for SAP Add-on Solutions, you'd want a contact list provider who can provide contact information of decision-makers at a large number of SAP customers – not just any company.
Quality refers to the reliability of the given contact information e.g. Is the contact still working in the same company? Is his/her telephone number correct?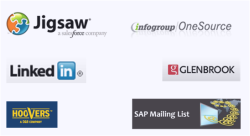 Before selecting a contact list provider, we urge marketers to define a sample target audience of around 100 companies per campaign and evaluate each provider on the coverage and quality of the contact information available with each of them. We say this because we've experienced significant differences in coverage and quality from one contact list provider to another across campaign dimensions like geography (e.g. USA, UK, Middle East), industry vertical (e.g. BFSI, Retail, Telecom), title (CEO, COO, CxO, SVP, Director), and domain (e.g. SAP, Payments).
Coverage percentage (i.e. the percentage of contacts from our sample list that we could source from a given contact list provider) varies from 8% to 30% across different contact list providers. In other words, you'd be able to get only one contact for every 12 you need with the "worst" contact list provider; and, even with the "best" provider, you'd have to look elsewhere for two out of every three contacts you need. Quality percentage (i.e. the percentage of accurate contact information) ranges between 40% and 70% from one contact list provider to another.

With coverage and quality differing so significantly across contact list providers, we recommend marketers to sign up for PAYG (pay as you go) plans with providers who don't insist on upfront membership fee, and charge you only for contacts that you wish to buy. If you can't find any PAYG plans, you can still protect your investments by seeking a moneyback guarantee – like the one we offer on our SAP Customer & Partner Mailing Lists – if the purchased contact information turns out to be inaccurate.