I'm especially happy with the new Rupee symbol because it is designed by an alma mater, D Udaya Kumar, from IIT Bombay. Hearty congratulations to him!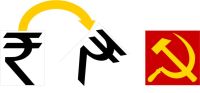 By rotating the symbol clockwise by around 30 degrees, you might be able to spot a certain resemblance to the hammer-and-sickle.
I wonder whether this is a relic from our past history with Russia.
By "our past history", I'm not just referring to India's traditional relationship with the former USSR and steadfast adherence to socialist principles before the big reforms of 1991.
I'm also talking about the past history of IIT Bombay.
During their formative years in the late '50s and early '60s, each IIT had some sort of affiliation with an overseas country e.g. IIT Kanpur with the USA, IIT Madras with the UK, and IIT Bombay with Russia.
There were traces of this affiliation with Russia even as late as 1985, which is the year I graduated from IIT Bombay. For example, there were many professors who'd earned their doctorates in Russia; the institute library had several Russian books, although we never actually found anyone actually reading or borrowing them!
And, above all, we had the notorious EC1030 mainframe computer that was made by a company called Robotron from East Germany, which, as readers would be aware, was a part of the former USSR until the Berlin Wall came down in 1989. Touted as an IBM360 clone, this mainframe used to make us students go back-and-forth several times a week between hostel and computer center with its unerring frequency of breaking down. One week, the central processing unit would fail. By the time it was fixed, it would be turn of the memory unit to conk out. Then, the Hollerith Card Reader would refuse to read, well, the Hollerith cards in which our programs were punched on a heavy-duty typewriter-like equipment.  Since the user and operations manuals were all in Russian, the aforesaid professors who'd studied in Russia and had a working knowledge of the language had to be called in to translate them so that repairs could be undertaken.
While it's possible to look back at all this with nostalgia now, let me assure you that EC1030 used to be one of our biggest pain areas during those days.
Let me take this opportunity to wish Dr. D Udaya Kumar a successful career at IIT Guwahati.