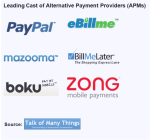 Many Americans might find it increasingly difficult to get, and hold on to, credit cards in the wake of the recently passed The Credit Card Accountability Responsibility and Disclosure (CARD) Act of 2009. To attract such people to becoming their customers as also to avoid losing those of them who are their existing customers, online merchants and web-based businesses are exploring alternative payment methods that bypass credit card networks and operate using ACH, TELCO or private EFT networks.  Paypal, eBillMe, Mazooma, Bill Me Later, Boku and Zong and a raft of other APMs have further stoked the interest of merchants with promises of lowering processing costs, increasing ticket sizes, boosting conversion rates and reducing fraud.

Merchants wanting to learn more about alternative payment methods might find the singular focus of traditional comparison shopping sites like CreditorWeb and modern realtime auction providers such TransFS on credit card processing services too limiting. Payments R Us is their Man Friday.
Payments R Us bills itself as "Your Gateway to Online Payment Solutions" and offers guidance and advice on choosing merchant account providers. According to its website, "We allow you to compare vendors and pricing. Our service is free, confidential and objective." Payments R Us also provides a host of information on payment processing, merchant accounts and pricing plans.
How does Payments R Us work?
Merchants first submit a few details about their payments volume and type.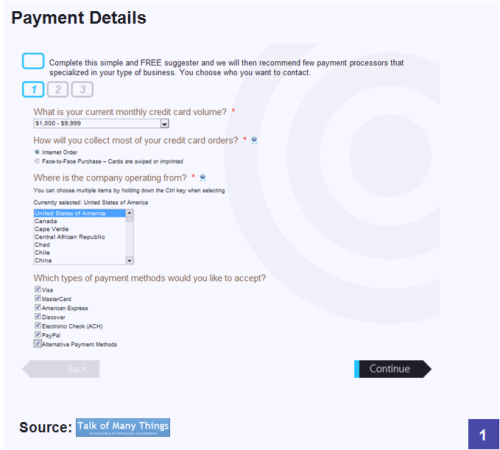 They then describe the nature items they sell, method of connectivity to their payment processor, need for fraud detection and prevention function, and a few other aspects of their business.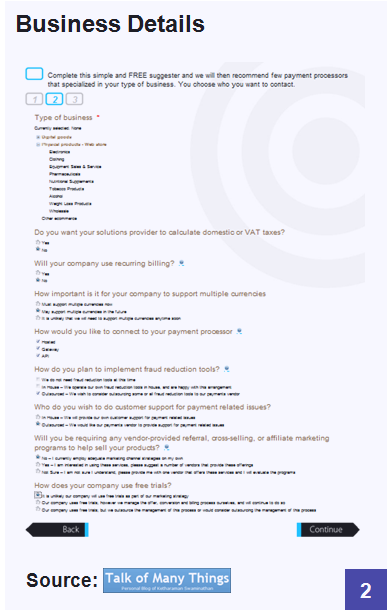 Then the Payments R Us Suggester presents a list of payments processors that it has determined to demonstrate the closest match for the merchant's requirements.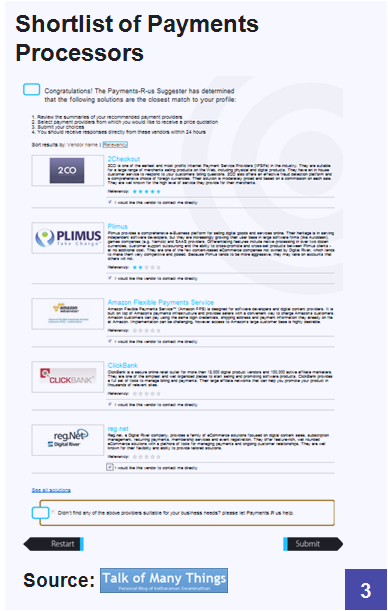 Unlike MoneyAisle or TransFS, Payments R Us doesn't seem to be executing a live auction to get the best rates from the participating vendors. In fact, contrary to its claims that it allows merchants to compare pricing, I couldn't find any pricing information in its final report. Of course, pricing is not everything in a fairly mission critical function like payments processing. Since most merchants would want to evaluate quality, service and other critical attributes of a payments processor rather than immediately sign up with the cheapest one, the absence of pricing information at the initial stage is hardly a serious shortcoming. To evaluate various alternatives and engage in negotiations before selecting the best APM, merchants can use Payments R Us' offer to establish a direct connection with the shortlisted vendors.
Payments R Us is the first comparison engine I've come across for alternative payment methods. In case readers know of any others, I request them to provide more details by posting comments below this post.