In Reliance JioFi First Impressions, I'd shared my initial experiences with the Reliance JioFi Portable 4G Pocket WiFi Router.
One month later, here are my "second" impressions:
UPDATE DATED 16-SEP-2016:
It's confirmed that voice on JioFi happens via data packets. However, I understand it's called Voice Over LTE (VoLTE) and not VoIP as I'd previously labeled it. I still don't have any reply to my tweet asking @reliancejio how many MB of data would be consumed by a 5 minute voice call. Wonder if the company's tone-deaf Twitter account has something to do with the recent departures of its Chief Marketing Officer and Chief Digital Marketing Officer.
UPDATE DATED 20-SEP-2016:
It's now over a week since I activated JioFi. Speeds in the interim period have ranged from 5.75 to 12Mbps. These were all at my home (Kalyaninagar, Pune). Today, I tried JioFi in my office which is located in a building on Nagar Road, Pune, which hosts many cell towers. I got 30Mbps!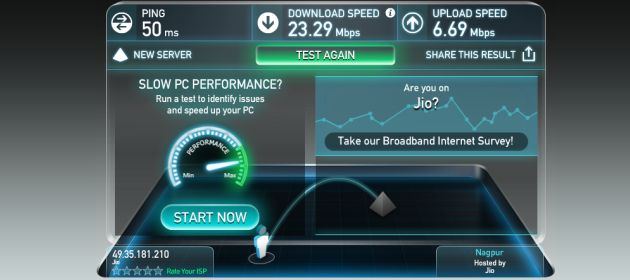 This is absolutely the highest Internet speed I've ever witnessed. (But that's only me – Hathway apparently delivers 50 Mbps in some parts of Mumbai).
That said, while JioFi has posted consistently better results on speed tests compared to my other connections, it is not perceptibly fast for browsing. In other words, I don't find any significant drop in page loading times with JioFi. I understand that browsing speed is determined by ping time (lower the better). JioFi's best ping time so far has been 50ms, which is much higher than figures like 9ms I've observed on other connections in the past.
UPDATE DATED 21-SEP-2016:
People tell me the real benefit of higher speed is to cut down file download times. Today, I had a first hand experience of that: I downloaded the MyJio app from Play Store. The 16MB app downloaded in just 6 seconds. That's really quick! For the numerically-inclined, the speed works out to 21Mbps (16*8/6).
UPDATE DATED 24-SEP-2016:
I was at my parents' home today. Their landline broadband connection (from another ISP) delivered 2.46 Mbps. Although that's 1/15th of JioFi's top speed, I found browsing to be much faster on it. It had a ping time of 30ms, which is much lower than anything I've seen on JioFi. This confirms what I'd heard before, namely that browsing speed is determined more by ping time rather than upload / download speed.
With @reliancejio handing out 4G liberally, @Airtel_Presence must be repenting its decision to decline 4G orders for lack of feasibility.

— GTM360 (@GTM360) October 4, 2016
UPDATE DATED 6-OCT-2016:
I heard from a few people in my circle that Reliance has stopped selling new connections. However, there seems to be a gray market for its SIM cards on the high street.
UPDATE DATED 10-OCT-2016:
During the past two weeks, JioFi's 4G connection has been out for more than 50% of the time. I'd earlier thought I could "jiofy" on Reliance Jio alone. But, with this kind of outage, I'll "marofy" if I canceled my other Internet connections (This is a lame one even in the native Hindi, so I won't dare translate it!).
That won't stop me from being greedy, though:)
Like @reliancejio 's launch, I wouldn't mind if the end date of its free trial is also postponed by 1 year!

— GTM360 (@GTM360) October 7, 2016