All leading mobile payment products in the world use QR codes. This includes Alipay and WeChat Pay in China, PayTM and PayZapp in India and Starbucks App in the United States.
QR code has been popular in China for the last 4-5 years.
In India, the nineties-era technology has become very visible in the last one year, driven by its use in leading digital payment products that got a huge stimulus on the back of the demonetization of high value currency notes a little over a year ago.
QR code may be so-1990s but it has fostered the largest financial revolution of the 2010s, says @Bloomberg https://t.co/xvWTV6Wuf7

— GTM360 (@GTM360) August 4, 2017
I often joke that QR code would easily qualify for "Graphic of the Year Award", if such a category existed.
As regular readers of this blog would know, I've been tracking QR codes in advertising and allied areas for many years. The caption of the above picture is an obvious reference to this post I wrote four years ago on the ubiquity of QR codes in newspapers, magazines, posters and billboards.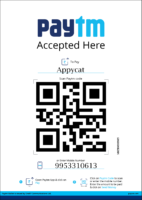 I continued with that pursuit by checking out around ten QR codes in print and outdoor ads over the last twelve months.
Each of them ticked the following three basic boxes:
Scans on a wide range of smartphone cameras
Drives a natural transition from print / online / TV to mobile
Microsite is mobile-optimized
A couple of them went further and supported the following advanced features:
CTA can be conveniently performed on a smartphone
CTA exploits the power of the smartphone
This is a huge improvement over QR codes of the past that would fail to scan or lead to non mobile-optimized websites.
I wish I could say the same thing about their engagement levels. Let me explain that with the following three examples.
#1. BAJAJALLIANZ (Print Ad)
The leading private sector insurer of India published a QR code in a newspaper ad that occupied a prominent spot at the top of the page.

The CTA for the QR code was "Scan this QR code to know why term plans are a must have".
The ad was dated 12 December 2016, which was four days after #CurrencySwitch happened. The visibility of QR code had already jumped up.
However, the QR code on this ad received only one scan (probably mine!).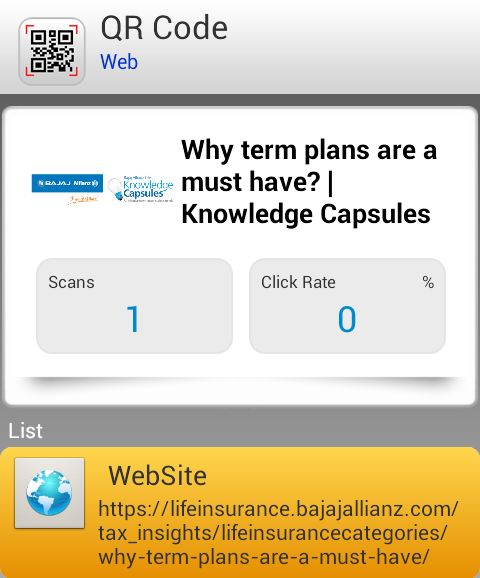 #2. SAP (Print Ad)
The world's largest enterprise software company gave a gentle reminder about GST in a newspaper ad and added a QR code for more information. For the uninitiated, GST stands for "Goods and Services Tax", which was introduced in India last July.
Despite the fact that the ad occupied a full page, the QR code in it received only one scan (again probably mine!).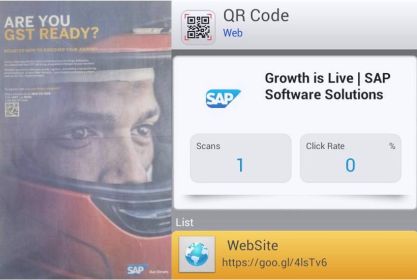 #3. SPLASH (Outdoor Sign)
Splash, the Zara of Middle East, has a floor-to-ceiling QR code at the entrance to its store in a large mall.
Despite the fact that this huge QR code has been around for several years in a high footfall area, it has received only double-digit scans.
---
Scan volumes of QR codes are low uniformly across print and outdoor ads in both B2C and B2B realms.
Traditionally, the tepid response to QR code has been attributed to low awareness of the technology. That factor is no longer applicable. Thanks to the widespread use of the technology in digital payments, QR code has virtually become a household name in the last 1-2 years.
Vive la QR code! Making it easier to scan on iPhone has now become Apple's key strategy to arrest ebbing sales.https://t.co/LCJXTdhYsc

— GTM360 (@GTM360) October 11, 2017
Why, then, are QR codes still receiving lukewarm reception in advertising?
IMO, it's because of the context in which they're used.
QR code works very well when it forms an integral part of a workflow i.e. it's used to do something, like completing a mobile payment transaction. However, it does not work so well when it's used as the source of advertising information.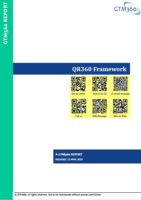 Does it mean marketers should stop using QR codes?
Not at all.
But it does suggest that they should find ways to use them differently. Instead of attaching them to ads, posters and billboards as a passive information resource, marketers can multiply the effectiveness of QR codes by inserting them into advertising and marketing CTAs. The sweepstake workflow is one case in point. There are other compelling use cases of QR codes in our QR360 Framework (PDF 730KB).
The spectacular comeback of QR code via mobile payments has validated the basic value proposition of the technology and pointed the way to where it works best. Advertisers and marketers are now well set to deploy them in the right context in order to drive engagement, improve conversion rates and get more bang for the marketing buck.