Buyer persona is the bedrock of targeted marketing. HubSpot provides a succinct definition of the term:
"A buyer persona is a semi-fictional representation of your ideal customer based on market research and real data about your existing customers."
A sample persona is shown below: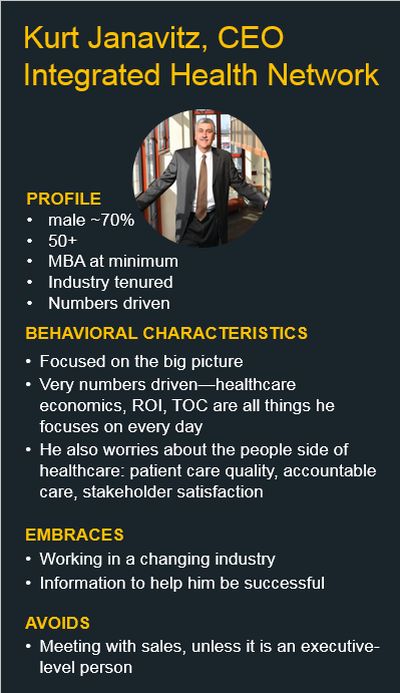 Persona-based marketing has become increasingly popular in recent times, both in B2C and B2B realms. Maybe it's only me but I see a strong correlation between PBM and the rise of Facebook Ads, which is arguably the first platform to provide the ability to run ads at scale segmented by buyer attributes like demographics, behavior, and preferences. (In contrast, Linkedin Ads helps you target ads by title and Google Ads, by purchase intent.)
We develop personas for companies in IT, BFSI and other technology-intensive industries. After doing that, we create persona-specific messaging and content for our customers' technology products and services. Campaigns based on personas help our customers' offerings resonate better with their buyers' goals and preferences, thus accelerating lead flow and improving lead-to-deal conversion rates.
Like all popular tactics, persona is susceptible to overuse. A few marketing professionals have already started panning personas e.g. Marketoonist, which lampooned personas in a recent article with the following cartoon: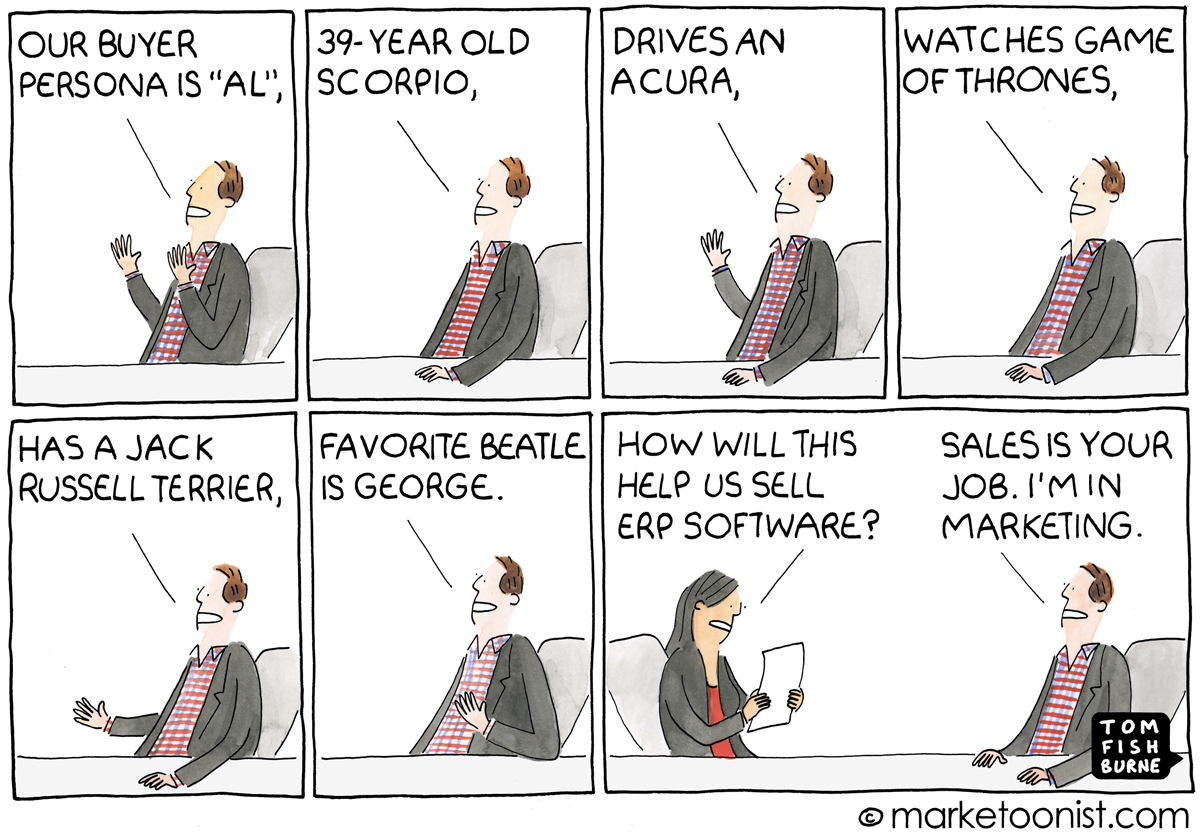 The article went on to say:
"Marketers have more customer insights at their disposal than ever. Buyer Personas can be one useful tool to turn this customer data into a story. They can help capture an abstract target audience as a tangible character sketch. But buyer personas are only as useful as what they help you to do. Marketers can get carried away with the fiction. I've literally seen "watches Game of Thrones" in the personality sketches of buyer personas for enterprise software. These personality-driven personas may read well, but aren't necessarily actionable."
Reading the reference to Beatles in the cartoon, I was reminded of an ad released by one of my ex-employers years ago. The company had just become the distributor for Sun Microsystems in India. The launch ad proclaimed in bold letters, "Here comes the sun". Even if you're not a Bealesmaniac, you'd recognize the name of one of the band's most popular songs in the copy.
Given this experience, I wouldn't dismiss references to music bands in a buyer persona so easily. The key is to use them – as well as automobile brands or TV shows – in the right context.
This is where I think Marketoonist has gone wrong: Its cartoon depicts a classic case of misuse of persona.
I'm not alone. Like commenter ALLEN ROBERTS says:
"Like any complex tool, personas can be misunderstood, misused, and give crap results, but in the right hands, and right context, can be very useful."
The misuse stems out of targeting the persona at Sales. While the output of personas can be shared with sales, personas themselves are meant strictly for Marketing.
Now, let's see what can happen if the persona described in the aforementioned cartoon is consumed by Marketing – i.e used in the right way. Based on this persona, Marketing can shape the content, messaging and medium of the software in the following ways (if not many more):
Pepper the marketing collateral of the product with Acura-related terminology. From personal experience of marketing ERPs, an enterprise application offers tremendous scope for flaunting a wide range of terms. Slipping in an Acura-related term or two in the product and / or marketing collateral is a piece of cake!
Seek product placement and / or advertising in Game of Thrones
Lace the ad copy and demo videos with Beatles lyrics and background music respectively.
Needless to say, a campaign based on such persona-shaped elements will have a higher success rate than a "spray-and-pray" campaign, as my ex-employer's Sun launch ad did.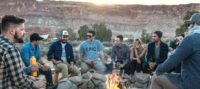 Beatles was popular at the time. The reference to the band's popular song "Here comes the sun" in the copy of the ad for Sun servers elicited an immediate connect with the thousands of Beatles fans in the target audience. The ad elicited a chuckle or two from the early adopters of the product and triggered a strong brand recall for the distributor amongst prospective buyers of RISC-based servers for years to come. (If you knew that the product manager of the company's Sun division went by the initials of SUN, you might even spot another pun in the copy!).
---
Ergo, in the right hands, personas – including the one described in the cartoon – can be very valuable.
That said, everything is not hunky-dory in the world of personas. In a follow-on post, I'll describe three ways in which personas are misused nowadays. Stay tuned.