Uber makes extensive use of targeted offers as a key plank of its customer engagement management (CEM) strategy.
For the uninitiated, a targeted offer is a personalized deal for an individual customer segment – or even individual customer. It's the antithesis of spam, where the same deal is sent to all customers. A simple example of a targeted offer is a gift coupon you get from a restaurant on your birthday.
.@ICICIBank_Care If u really want to give me a b'day gift, send me a gift code. Discount code is not the same thing. http://t.co/yn3gGkMwge

— GTM360 (@GTM360) February 17, 2014
Here are a few targeted offers received by me and my family from Uber in the recent past:
50% off for next two rides. Enter Promo Code HOLI17.
Flat Fare Weekend. INR 49 for up to 5 kms; INR 99 for up to 10 kms and INR 149 for up to 15 kms. Enter Promo Code FFWKND.
33% off on five trips. Enter Promo Code PUNE833.
25% off for next three rides. No Promo Code required.
50% off for next two rides. Enter Promo Code PUNEGOLD.
Like all brands, Uber also tacks on some fineprint to its targeted offers e.g. validity period. But that's where the similarity ends. The world's largest taxi aggregator sets itself apart from the herd by following a few unique practices in the way it devises and fulfills its targeted offers.
#1. OFFERS VARY BY CITY
When Uber made the second targeted offer in the above list in my city (Pune), it had made an even sweeter Flat Fare Weekend offer in Ahmedabad. For one, the fare was lower: INR 50 for up to 8 kms and INR 100 up to 15 kms. For another, it ran through the whole week. (Last year, I'd visited this Gujarat city and had taken a couple of Uber rides there. Maybe because of that, I keep getting Uber's targeted offers for Ahmedabad as well).
#2. OMNICHANNEL
I regularly receive Uber's targeted offers via three channels viz. Email, SMS and in-app PUSH notifications. All of them work inside the Uber app. Which is a non-trivial statement because I can't say the same of offers I receive from many other brands.
#3. TARGET AUDIENCE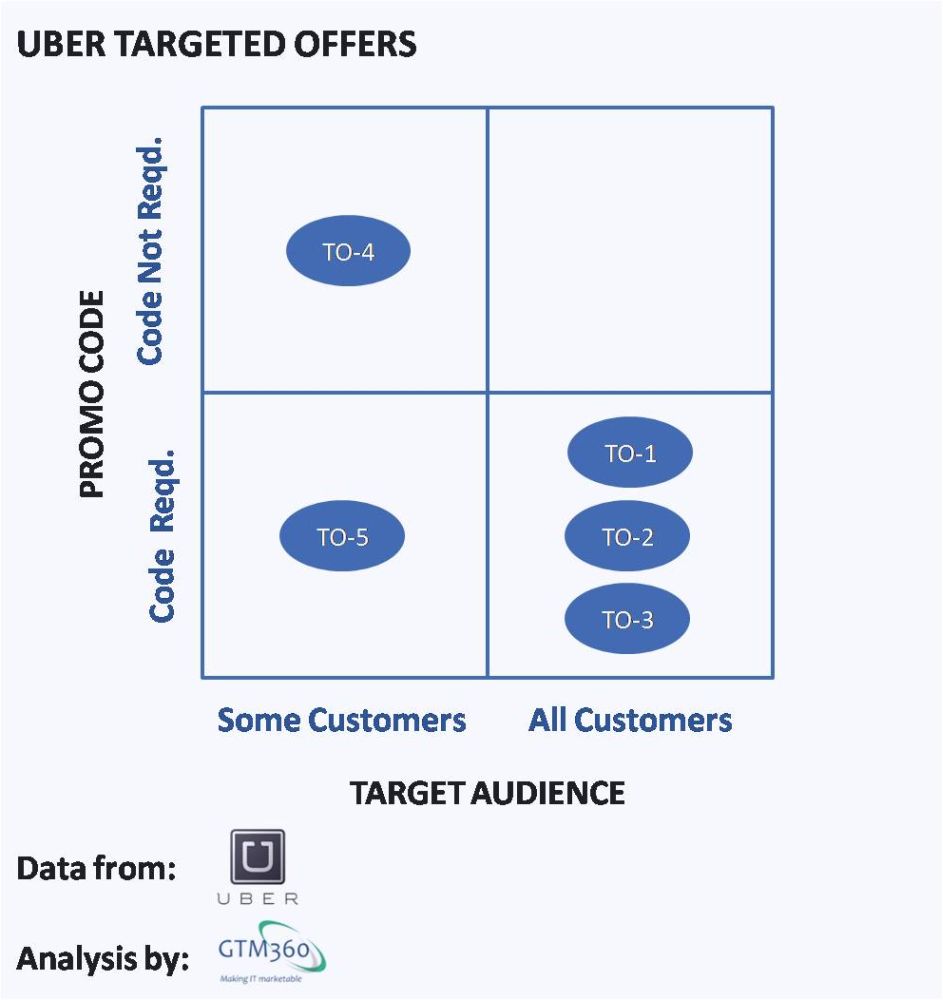 As you can see from the exhibit on the right, some of Uber's offers are available to all customers whereas others are narrowly targeted only at some customers. Most offers come with a promo code that needs to be entered at the time of booking the ride. Some of them don't need a promo code. But even they're not necessarily targeted at everyone. For example, only my wife got the fourth offer on the above list (my daughter and I didn't).
#4. FRICTIONLESS REDEMPTION
I described a pet peeve about promo codes in Walking The Tightrope Between Driving Repeat Purchase And Rewarding Loyalty. A quick recap: Three years ago, I got a targeted offer from MERU Cabs, the pioneer of app cabs in India. It was for a discount of INR 100 on my next ride. To get the discount, I needed to enter the promo code FEELGOOD while booking my next ride. That happened a few weeks later and I'd forgotten the promo code by then. As a result, I forfeited the offer and had implored brands to automatically apply promo codes in future.
But I'd also predicted that they won't. To know why, click through to the aforementioned post.
My prediction was right. Many years later, even Uber and Ola – the two main players in the aggregator cab market in India today – don't apply promo codes automatically.
That said, Uber strikes a great balance between customer experience and its business goal of driving repeat purchase. In a novel approach to achieving this, Uber requires you to enter the promo code – where applicable – only once. Uber applies the code automatically for all subsequent rides during the offer's validity period. Let me illustrate this with the third targeted offer listed above. By entering PUNE833 only once, you get the discounted fare for five rides without doing anything while booking the second through fifth rides.
---
Going by my personal experience, Uber's targeted offers are very effective. There have been times when I've gotten an offer from Uber and decided against using my car as I'd originally planned.
The Holy Grail of targeted offers is to create a need solely via targeted offer. In Does CX Really Drive Sales?, I'd wondered if Ola, Uber's main competitor, would crack it. I now tend to believe that it won't – once I switched to Uber, I've hardly used Ola. I'm convinced that, if there's a brand that will crack this Holy Grail, it's Uber.
There's no doubt that Uber has mastered the use of targeted offers to create loyalty for its deals.
Is it also creating loyalty for its brand?
That will be the topic of my follow on blog post. Watch this space. (Spoiler Alert: Ironically, another type of targeted offer comes in the way of Uber's achieving the ultimate reward of CEM).