I'm happy to announce that I have been named to The Royalty of Insightful Financial Services Content list.
Compiled by Bryan Clagett, CMO & Investor in Geezeo, a proven white-label PFM provider for banks and credit unions, this list places me in the august company of Ron Shevlin, Jim Marous, Stessa Cohen, Brett King, Chris Skinner and seven other fintech titans largely in the United States.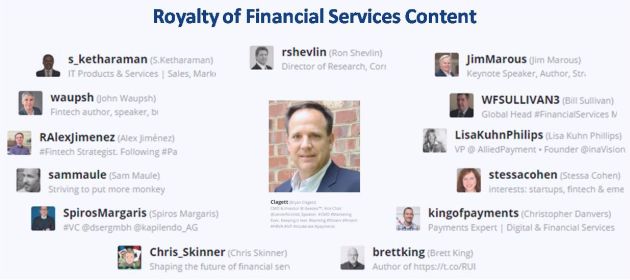 A big thank you to Bryan for this recognition.
Readers would be aware that I blog and comment frequently about fintech-related topics. There are 90 posts in this blog on the topic and some more in my personal blog before I started the company blog. In addition, I've left over 2500 comments on Finextra. The latest five posts on fintech on this blog are as follows:
My deep involvement in finserv reflects my passion for the field and decades of experience in marketing, sales, delivery and program management of technology solutions for banking, financial services and insurance companies worldwide.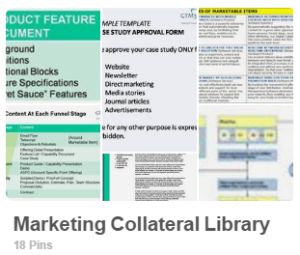 Apart from the content published in the public domain, my company develops dedicated marketing collateral for fintech solution providers. Comprising of a wide array of items like flyers, offering detail presentations, account specific point offerings and social media updates, our content can be used at various funnel stages by growth stage fintech vendors to elevate the appeal of their offerings, grow their sales pipelines, spot new revenue models, increase ticket size, shorten sales cycles and multiply returns from their technology assets in many more ways. Click here to view our Pinterest marketing collateral board.
If you clicked through to Bryan's article, you'd have noticed his question 'What does the "S" in "S.Ketharaman" stand for?' and wondered the same yourself.
Here's a short answer: It's meant to be a conversation starter.
Click here if you want to know the long answer.
Humility is not my strong suit – readers and followers might have noticed my customary omission of the H from IMHO in my blog posts, comments and social media updates. However, on this occasion, I'm truly humbled to be a part of a list which includes many financial services content giants.
Happy Holidays!