Here are the updates from my recent visit to Lord Balaji and Goddess Padmavati Temples in Tirumala and Tirupati respectively. For the uninitiated, these two towns are located in Andhra Pradesh, a state in southern India.
#1. 300 Beats 50
After my last visit to Lord Balaji Temple in Tirumala two years ago, I'd posted Fifty Beats Three Hundred At Tirumala-Tirupati. Not sure if somebody read this post at the administrative body, Tirumala Tirupati Devasthanam (TTD), but the only darshan ticket that can be booked online now is the INR 300 Special Darshan. Here were my darshan timings for my two darshans with this ticket:
Darshan 1:
Tirumala Darshan Time: 55 minutes on 1 Feb 2016 w/ INR 300 ticket. Queue @ 8:50AM, Darshan @ 9:45AM.

— S.Ketharaman (@s_ketharaman) February 7, 2016
Darshan 2:
Tirumala Darshan Time: 1h20m on 1 Feb 2016 w/ INR 300 ticket. Queue @ 12:50PM, Darshan @ 2:10PM.

— S.Ketharaman (@s_ketharaman) February 7, 2016
#2. Traditional Indian Dress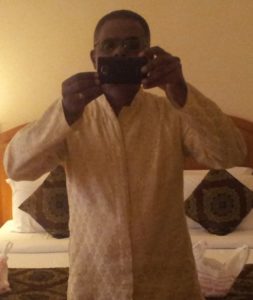 In my 20 years of visiting Tirumala, I've always worn shirt and trousers. However, that changed this time: It has now become mandatory to be attired in "traditional Indian dress" for all special darshans. I was tipped off about this new rule by a friend and had noticed a line to this effect in the ticket. So I went prepared. You can see a mirror selfie – or "melfie" as I believe it's called – on the right. But many pilgrims were caught unawares by the change and had to buy a veshti from the shops outside the temple and hurriedly wear them over their trousers. For the uninitiated, veshti is a "a rectangular piece of unstitched cloth, usually around 4.5 metres (15 ft) long, wrapped around the waist and the legs and knotted at the waist." (Source: Wikipedia)
#3. Novel Display At Ticket Verification Counter
Verification of darshan tickets now happens before entering the Vaikuntam Queue Complex. You hand over the printout of your ticket, the attendant scans it with a barcode reader and the highlights of your ticket – darshan type, reporting time, type of ID proof, etc. – appear on a widescreen display mounted on the wall above the queue. The new arrangement makes it easy for pilgrims to view the details for themselves, unlike in the past when a facsimile of the ticket would only appear on a conventional 14 inch monitor placed in front of the attendant. I wish I could post a picture of the new display arrangement but since cameras are not allowed here, this description would have to suffice.
#4. Multilingual Signage & Announcements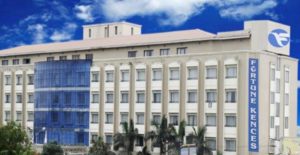 Many important signs and announcements made over the P.A system in the Tirumala temple premises were in multiple languages. The Ola cab driver, auto rickshaw driver and the maintenance engineer at my hotel could all speak Hindi. Whether this happened because of my rant after my last trip or not, it's a welcome development for pilgrims from outside Andhra Pradesh!
#5. TTD Sales Department
There were constant announcements on the P.A system about room vacancies at Tirumala. The attendants at the TTD Publications Bookstore were very helpful to customers. Somewhere I noticed a sign saying "TTD Sales Department" or something to that effect. As a career sales and marketing professional, I find this to be a great thing. And I'm not surprised that TTD has overtaken the Vatican to become the world's #1 religious organization by revenues.
TTD is no longer one of the richest religious organizations in the world. It is the richest. https://t.co/lN33vNW8sl

— S.Ketharaman (@s_ketharaman) September 23, 2014