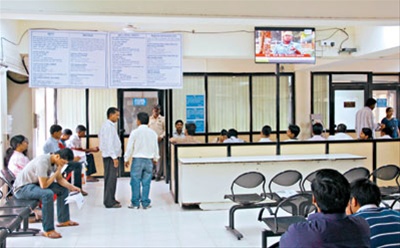 When I'd visited the local Passport Seva Kendra (PSK) to renew my passport around a year ago, I was thrilled with the experience: The staff was courteous. From a photocopier on premise through to a well appointed waiting area and a modern display system, there were enough indications that PSK was fulfilling its vision statement, one adjective by one-too-many adjective.
To deliver passport services to citizens in a timely, transparent, more
accessible, reliable manner and in a comfortable environment through
streamlined processes and committed, trained and motivated workforce.
Cue to now. I visited the same PSK recently for renewal of my daughter's passport and had a miserable experience.
The counters issuing the token and carrying out scanning of the documents (Counter A) appeared to be manned by employees of the outsourcer Tata Consultancy Services (TCS). The next two counters – Counter B for Verification and Counter C for Granting – seemed to be staffed by government officials.
On Day 1, the TCS person at the token counter asked me for a certain Annexure H. I didn't know what it was. He gave me a blank form and told me to get it photocopied. While doing that, I noticed that this form was to be signed by "father / mother / legal guardian". I pointed out to the person at the counter that, since only one parent was allowed to accompany a minor child, my wife hadn't accompanied us, so her signature wouldn't be possible. Pointing to the "/" between the father / mother / legal guardian in the form, he assured me that only one parent's signature sufficed. After signing it, I proceeded to the next counter, which scanned all the documents.
Three hours later came my turn to go to the Verification Counter. The person here told me that he was putting my application on hold since it didn't have the mother's signature on Annexure H. I told him that I'd specifically raised this point at the earlier counter and appraised him about the response I'd received there. I pointed out that, had the previous person told me that both parent's signature was mandatory, I could've called my wife over much earlier. He agreed with me and told me to share my feedback with the Assistant Passport Officer. The APO agreed with me about the need to ensure that all counters provided consistent information but regretted that it was too late in the day for me to call my wife over. She promised me that if I came back the next day, everything would be done in half an hour.
Turned out to be an empty promise.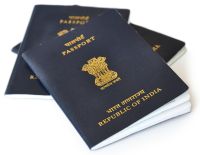 I went home and took my wife's signature on the Annexure H. Not wanting to take a chance, I decided to take her along the next day. But the security officers at the gate allowed only one parent to enter. For the sake of continuity, I went inside, leaving my wife outside to be summoned up urgently if required.
We had to wait for two hours just to get the token. Out went the APO's promise for getting everything done in a half hour. After another wait of 45 minutes came my turn to meet the officer at the Verification counter (different person from the previous day). This guy took a look at my application and told me that proof of address was required. I pointed out that I'd already included it in my application set and that the front office guy had removed it. Luckly, I'd still carried it along, so I could produce it immediately. But I'd to go back to Counter A to get it scanned it and have a photocopy stapled back into the application docket. This set me back by another 45 minutes.
While I was standing in the various queues, I spoke to a few others around me and found out why their applications were put on hold. Reasons included:
Birth certificate has one extra name compared to the passport application. No, you can't change the name on the application now.
Bank passbook does not have rubber stamp of the bank. My bank never puts a rubber stamp on the passbook.
Proof of address document is less than a year old.
Even if these points are highlighted on the PSK's website – which I strongly doubt – they're very flimsy grounds for holding back applications and asking people to make another visit, especially when many of them visit from out of town locations. There's also something not quite right with a process that's meant to grant / renew what's essentially a fundamental right of a citizen if it ends up putting 100 out of 600 applications on hold.
I hope my case was an aberration and doesn't presage the return of the traditional public service attitude of "come back tomorrow".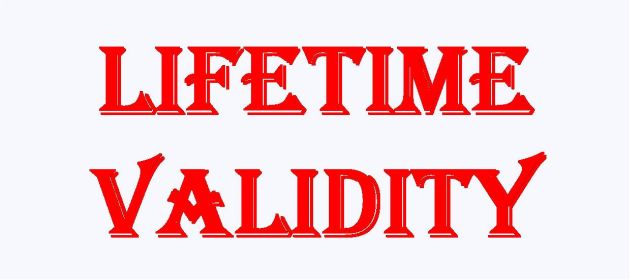 Reflecting on my experience, my thoughts drifted to my EU Drivers License that never expires. I wondered if the government could consider passports valid for lifetime. While it may be unprecedented,  a passport with lifetime validity would improve citizen experience considerably. And, since people might be willing to pay higher fees for it, issuing lifetime valid passports could become an additional source of revenue for the government.
Is anyone in the government listening?