People buy from people. People have emotions. Ergo, emotions play an equally important role in B2B and B2C sales.
There's a school of thought that subscribes to this view. I could be prejudiced but it largely seems to comprise of B2C marketers who have migrated to B2B e.g. Deanna Lazzaroni in Dear Modern Marketer: I Dare You To Make Me Feel.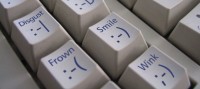 Emotions like winning, looking good among peers, fear of failure, and so on do underpin B2B purchase decisions. So the notion is a no-brainer in principle.
However, acting on it is anything but.
Before marketers go out and add mushy stuff to their B2B messaging and content, they need to appreciate that emotions impact B2B purchases in fairly different ways compared to B2C purchases. Some of the key differences in the role of emotions between B2C and B2B are described below:
Emotion is influential but not decisive
A consumer can buy something with a simple "I like it" emotion whereas a corporate buyer would need to enumerate the benefits to their company of selecting a particular vendor. This is true even for the same product like, say, tablets. In fact, in government and some business cultures, colleagues and superiors might even suspect the intentions of a B2B buyer who demonstrates too much fondness for a particular vendor.
Whose emotion?
B2B purchase involves several people aka committee. All committees are rife with group dynamics in which Interpersonal Persona" is a key factor, as CEB Worldwide points out.
Kudos to @CEB_Marketing for highlighting the need for B2B marketers to address Interpersonal Personas. http://t.co/yReb91kGfL

— GTM360 (@GTM360) February 21, 2014
So the question is whose emotion to consider when different members of the purchase committee are driven by different emotions.
Emotion is never raw
Although companies urge employees to check their emotions at the door, there's always some emotion left in play. Problem is, the residual emotion manifests itself quite differently from the original emotion. As a result, at least on the surface, buyers are generally on the guard whenever sales attempts emotional appeals.
*****
For all these reasons, it's tricky to leverage emotion in B2B sales.
But that's not to say that it can't be done.
The trick is in packaging the offering in such a way that the prospect has a set of logical reasons to defend the emotionally-triggered selection of a vendor. From personal experience, SAP seems to be doing a great job of this. Many IT teams see SAP as a launchpad to their own careers. They make up their mind to buy the world's #1 ERP based on the emotion of personal gain. But they justify their choice of SAP by touting several benefits for their employer such as superior fitment via industry-specific solutions, large network of implementation partners, access to global best practices, and so on. As highlighted in The More ERP Changes, The More It Remains The Same, many of these benefits prove elusive in actual practice but, by the time a company realizes that, it's too late to backtrack.
To conclude, emotions play an important role in B2B but any amateurish attempts to bring them into B2B sales and marketing will backfire.