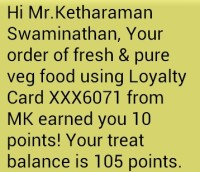 Ever since I pointed out the yawning gaps in its disloyalty – er loyalty – program in Mast Kalandar Shows How Not To Run A Loyalty Program, Mast Kalandar has thoroughly revamped the way in which the program operates. Diners no longer need to struggle with their plastic cards in front of flaky card readers to earn rewards. They simply quote their mobile phone number to the cashier and receive instant confirmation of credit via SMS. This has worked as advertised during every one of my subsequent 5-6 visits.
While it's not a trailblazer of replacing plastic with an easy-to-remember PII like mobile #, the QSR deserves kudos for listening to its customers and streamlining its operations accordingly.
Where Mast Kalandar does blaze the trail – at least going by my personal experience – is by fostering loyalty outside of its loyalty program.
On a recent scorching afternoon, I selected the Mast Kalandar outlet near my office for lunch largely because it was air conditioned. After placing my order and taking a seat, I noticed that the AC wasn't working. I complained about it to the cashier. He threw up his hands and confessed that they hadn't been able to repair the AC for over two weeks. I asked him if he'd give me a discount to make up for the shortfall in service.
He laughed away my question. Which was hardly surprising going by my experience with un-empowered frontline staff at most other stores in India. Since I'm a big fan of using social media to receive customer service (click here and here), I tweeted to the company while I was still inside the restaurant.
Hey @MastK : I'm at your PNQ-VMN outlet. Your AC is not working. Will you give me a discount to compensate for shortfall in your service?

— S.Ketharaman (@s_ketharaman) April 6, 2015
Nothing happened until I finished my meal and left the restaurant around 30 minutes later. However, someone replied back to me later that day, asking me for my contact info. When I gave my mobile number, one Swetta Rao from the COO's office called me, apologized for the inconvenience and promised that the AC would be fixed at the earliest.
I've seen many of these movies before and they typically end on that they-lived-happily-ever-after note.
But not this one. This customer service executive offered a free meal on my next visit. This came as a pleasant surprise: I'd asked for an inch and didn't expect a mile in return!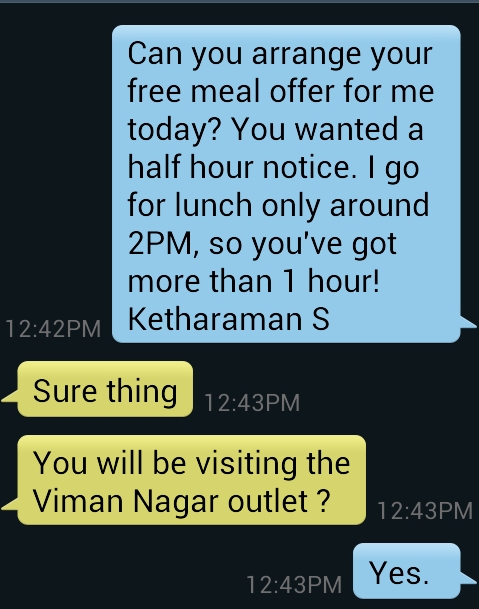 I thanked her and inquired about the modalities of redeeming her offer. She told me that I simply had to give her a 30 minute notice whenever I next decided to visit a Mast Kalandar and she'd take care of everything else.
I was traveling and otherwise eating out at other restaurants until three weeks later when I decided to reach out to Ms. Rao to encash on my free meal. Despite the passage of time, she hadn't forgotten me or her free meal offer and promptly texted me back within 15-20 minutes to confirm that she'd made all arrangements at the outlet.
As soon as I reached the restaurant, the store manager David knew who I was. I didn't have to update him about my interactions with his colleagues, a ritual I go through regularly at banks and retailers. Without a word from me, he served my free meal. The entire experience was absolutely frictionless.
Mast Kalandar certainly deserves props for streamlining its loyalty program. But there's a lot more than that. To put it in perspective, let me share the views of Rajat Paharia, Founder and Chief Product Officer of gamification company Bunchball. In his latest book titled Loyalty 3.0, Paharia argues that traditional loyalty programs merely encourage loyalty to offers and discounts rather than brand. In an apparent nod to this notion, Mast Kalandar has gone beyond the purview of its loyalty program to find ways to enhance the overall CX. For that the company merits a standing ovation.
If Mast Kalandar's C-Suite keeps up its good work and progressively empowers its frontline staff a little more, Mast Kalandar might just crack the Holy Grail of winning a customer for life. Best wishes to Swetta Rao, COO Pallavi Gupta, Store Manager David and the rest of the team at Mast Kalandar in their journey to provide what Ms. Rao calls a "WOW Service" to every single customer on every single visit.
And, yes, when I went for my free meal, the AC was working!