The pharma industry employs medical representatives to detail doctors and canvass drugstores to drive sales of its prescription drugs. Generally, it ignores patients in its sales efforts.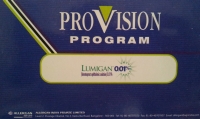 This makes sense because patients don't play an active role in deciding what to buy in this industry. The physician writes the prescription for a specific brand of a general formulation and the patient gets it filled by a pharmacy. Substitutes, if applicable, are agreed directly between the doctor and the pharmacy.
As a result, the prescription drug industry doesn't interact with its customers directly.
Allergan, the global pharmaceutical company, has broken out of this mold by introducing a program to engage directly with customers. Patients learn about the company's ProVision Program from their eye surgeons and, if they're interested, enroll in it by completing a form and handing it back to the receptionist at the clinic. A welcome kit follows. Among other things, it contains a booklet that describes the disease, cause and risk factor.
There's no mention of the company's product apart from a small reference on the back cover of the booklet:
Given that the product in question is an eye drop, it's obviously not targeted at people with perfect eyesight. Of those who lack 20/20 vision and use the product, I don't know how many that sign up for ProVision will be able to read the above fineprint. Going by my experience on other occasions, the regulator will eventually wake up to its primary responsibility of protecting the interest of the consumer and push the company to print the disclaimer on the first page in bold typeface. Until that happens, I've squinted at the disclaimer and figured out what it says:
1) The communication address shared will be used only for dispatching PROVISION material
2) Decision to initiate LUMIGAN 0.01% therapy lies with your physician after evaluation.
But I digress.
Print, TV and other forms of mass media advertising are du jour for OTC drugs. But ProVision is the first example I've come across of a prescription drug brand communicating directly with individual consumers.
The pharmaceutical industry has traditionally invested in e-detailing, mobile secondary sales and other doctor- and chemist-facing technologies to aid its sales force. Lately, these tools are losing their edge on the back of a slew of new regulations that curtail pharma companies from incenting doctors and compel drugstores to maintain onerous documentation while selling prescription drugs. Big pharma CMOs are caught between the doctor and the drugstore.
But they need not despair. The new generation of Customer Engagement Management (CEM) solutions gives them a way to engage directly with customers. With ProVision, Allergan has shown the way. I expect the rest of the Pharma Industrial Complex to become "rapid followers" very soon.