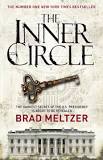 As soon as I opened The Inner Circle, Brad Meltzer's novel about the presidential spyring Culper Ring, on my B&N Nook Color, I noticed that it had 977 pages. Which is quite a lot for the average paperback.
I'm no stranger to big books – Texas by James A. Michener, Exodus by Leon Uris and Atlas Shrugged by Ayn Rand are at least three novels I've read that I recall crossed the 1K page mark – but an average bestseller tends to get tedious beyond 450-500 pages.
Nevertheless, I decided to give The Inner Circle a try, telling myself that I'd dump it as soon as it started dragging. When I reached page # 450 or so, I began to feel that the story had reached a logical conclusion and started wondering what was in store in the next 500+ pages.
Fortunately, nothing. The book ended at page # 458.
Curious to find out what was occupying the next 500+ pages – malware? – I flicked on. I got past the table of contents, copyright notice and a few more standard pages until I saw a bonus book starting from page 467. Unlike free first chapter previews regularly thrown in at the end of most eBooks nowadays, The Inner Circle actually gave away a whole book for free. And not just any book –  The Cabinet Of Curiosities has received a 4-star rating on my go-to book review app Goodreads.
With two books for the price of one, The Inner Circle was great value for money.
Not to look at a gift horse in the mouth but the notification of the bonus book should've ideally appeared at the start of the book – avid readers know the difference between racing through a 400-odd page book once a week and settling down for a 1000 page tome a few times in their whole lives.
By bundling another book at no extra cost, publishers can take the value proposition of eBooks to the next level and thereby accelerate the pace of their mainstream adoption.