Bill Gates had once famously remarked, "We always overestimate the change that will occur in the next two years and underestimate the change that will occur in the next ten".

Having witnessed the first part of this statement coming true with so many technologies – biometrics, e-grocery and mobile payments to name a few – I've always wondered why this was the case. According to a recent experience, the answer seems to lie in the mesmerizing power of new technology to blind a lot of people to the straitjacketing role played by well-entrenched business models.
A few days ago, someone tweeted that the JustBooksCLC store in their neighborhood had shut down. (JustBooksCLC is a book lending library chain that makes innovative use of technology). I tweeted back saying, "Much as I liked JustBooksCLC, I canceled my membership when I got an eBook". In my reply, I'd also inquired if others would follow suit. I got an unequivocal "yes" in response, followed by the dire prediction that ebooks would kill libraries in the near future.
I don't think this is going to happen in two years.
It might not even happen in the medium term when we realize that we're talking about ebooks versus libraries, not ebooks versus printed books.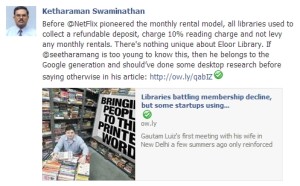 ebooks cost almost the same as printed books. On the other hand, members can borrow a book from lending libraries for barely 10-15% of the cost of the book. By delivering such a huge cost advantage, libraries deliver a compelling value proposition for people who wish to read books without necessarily owning them.
As a result, libraries are bound to be around for the forseeable future. (As an aside, publishers save on paper, printing and transportation costs in the case of ebooks but they're somehow able to get away by barely marking their prices down by 15-20% compared to printed books.)
Of course, libraries would face a serious existential threat if ebook lending became commonplace.
However, that's not likely to happen anytime soon. As of now, there are no ebook lending libraries. This is despite the fact that ebooks are digital and intrinsically more shareable. Wonder why?
Can you say business model?
In the absence of a pure-play service, let me take Lendle, the nearest equivalent to a lending library for ebooks. Although it claims itself to be the "easiest, fastest, fairest, and best way to lend and borrow Kindle™ books", Lendle is a far cry from a traditional library. For one, you just can't pay a fixed fee and borrow a predefined number of Kindles a month. The only way to borrow Kindles is to buy some Kindles first and agree to lend them to others on Lendle. You have to buy if you want to borrow – how counterintuitive is that? Secondly, each Kindle can be lent only once. Yes, that's right, only once in its lifetime. The list of restrictions doesn't stop there: Its website regrets that "Lendle is currently only available in the United States".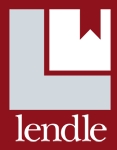 You can blame business model again.
At this point, seamless ebook lending is virtually non-existent. Therefore, traditional libraries still have a lot of juice left in them. Even if ebooks render printed books obsolete, they won't kill libraries.
This has nothing to do with technology. This is the result of the way the publishing industry functions. While the prevailing business model could get upended in due course, I doubt if much would change in the next two years.
Drunk on the Kool-Aid of technology, many people seem to forget this. And Bill Gates keeps getting vindicated day after day.