This Finextra article highlights a major challenge facing digital marketers using Twitter for business development:
How do you determine the veracity of a Twitter account? Put in another way, how do you verify if a certain Twitter handle really belongs to the person to whom you think it does?
Since marketers don't want to waste their time "listening" to the wrong guy, this is a big problem. For example, if you wish to keep abreast of news and views from NatWest Bank, you might simply follow @NatWest. Unfortunately, that wouldn't work: This Twitter handle belongs to one Ms. Natalie Westerman. According to this story on The Telegraph, when NatWest Bank's Internet Banking portal crashed recently, millions of its customers tweeted to @NatWest to vent their anger, wrecking havoc on Ms. Westerman's timeline in the process!
A thorough marketer – and customer – could've visited NatWest Bank's website and picked up its correct Twitter handle (@NatWest_Help).

However, this approach doesn't work with companies who shy away from displaying their social media buttons on their websites, presumably because they're wary of linking their websites to  third-party sites that lie outside their control. For example, you won't find @IDontLuvUMovie anywhere on the movie's website (I found it on its print ad, BTW).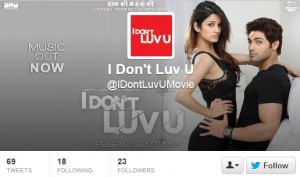 While companies like that might be rare, individuals are an entirely different ballgame. Very few people have private websites. Twitter Search is not foolproof since many famous – and infamous – individuals attract droves of squatters with similar-sounding handles. For example, there are reportedly more than 100 Twitter handles impersonating  Sanusi Lamido Sanusi, the governor of Central Bank of Nigeria.
At this point, Twitter does not seem to enforce anti-squatting rules. You can claim to be God and, as long as the @god handle is available, Twitter will allocate it to you without verifying that you're indeed God. Okay, just joking. But you can virtually claim to be @anyone on Twitter and get away with it.
An extreme example of Twitter's first-come-first-serve policy in alloting handles can be found in @jackdorsey. While the owner of this handle – one Mr. John Pitts – is a "Father/Husband, Manhattanite, Peace Corps alum, book publishing veteran, dabbler, tinkerer, thinkerer", he's certainly not the illustrious founder of Twitter (who goes by @jack presumably because he got pipped to the post by Mr. Pitts).

As if marketers don't have enough headache filtering out imposters, they face a much tougher task when they try to follow influential bloggers and company CXOs on Twitter.  A lot of them use handles that are completely unrelated to their names viz.:
@parislemon (MG Siegler)
@quixotic (Reid Hoffman)
@finkd (Mark Zuckerberg)
Maybe they use different – and more intuitive handles – while tweeting on business? No, siree, the following announcement of a new Facebook feature was found on @finkd:
Excited about rolling out the new real-time stream home page to all FB. To everyone who has written in asking for it, you'll have it soon!

— Mark Zuckerberg (@finkd) March 13, 2009
While Twellow and other third-party directories can help, they can't  weed out squatters – impersonators on Twitter are also impersonators on Twellow.
LinkedIn is a great source for searching for individuals and finding out their Twitter accounts, especially in B2B. However, like Twitter and other social networks, LinkedIn uses the User Generated Content paradigm when it comes to content submitted by its users. Therefore, you can create a profile claiming that you're the head honcho of a certain company without even working there and LinkedIn will pretty much display it as is. As a result, marketers are not assured of the authenticity of the information they find on a person's LinkedIn profile. If this goes against what you've heard about LinkedIn, I came to this conclusion only when I spotted two people's profiles mentioning my company's name when they didn't work with me. If this can happen in a small company like mine, you can imagine the amount of impersonation that must be going in in the case of large and famous companies. So, the Twitter identity crisis remains even after putting LinkedIn to use.
A couple of weeks ago, Twitter announced a few enhancements to its premium product Promoted Tweets. At first glance, it appeared that the identity crisis problem has finally been solved. Alas, it was not be be. When I looked under the hood, the solution turned out to be partial: While Promoted Tweets now supports email retargeting, it doesn't give you a list of Twitter handles of the people who were exposed to messages sponsored by your company.
I encourage readers to use the comments box below if they know any other solution for this problem.