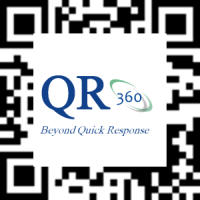 We love business cards with QR codes. One scan with a smartphone, and the contact is immediately added to the phonebook. No need to enter data manually. No fiddling around with scanners and OCR software. We found this functionality so useful that we made it a basic feature of QR360, one of our digital marketing solutions. Going beyond a basic QR code, QR360 packs in SmartResponses that help businesses to generate leads, acquire customers and boost customer satisfaction. Examples of SmartResponses enabled by QR360 include
Follow us on LinkedIn
Like us on Facebook
Tweet this page
While developing QR360, we had to select a suitable format for encoding the contact information held in a typical business card. We evaluated MeCard and VCF, which seemed to be the two most popular options for this. With MeCard, the entire contact information is stored in the QR code itself. In the case of VCF, the QR code merely encodes the location on the cloud where the contact information is placed. At first glance, MeCard appeared to be the more appropriate choice of format compared to VCF, but we decided to examine both formats more critically. This is what we found to be key differences between them:
Attribute
MeCard
VCF
Appearance
Density
High. Can be scanned only on
smartphones having 5MP+ camera resolution.
Low. Can be scanned from
virtually all smartphones.
Future Proof
Low. QR code needs to be
regenerated and recirculated when contact information changes.
High. All changes to contact
information can be made centrally on the cloud. QR codes in circulation need no change.
Enhancements
Low. Contact information
itself uses up the entire code, leaving no space for adding extra functionality.
High. All SmartResponse actions can be added on the cloud without making the code itself any larger.
Accuracy
Medium. Different fields on business card (e.g. street address, city, etc.) are all incorrectly mapped to the same field on the phonebook, compelling the user to readjust them manually.
High. Different fields on business card are mapped correctly to the corresponding fields on the phonebook.
Connectivity
Internet connection not
required.
Internet connection required.
As you can see from the above comparison, VCF scored better than MeCard on virtually every attribute. We didn't find the need for Internet connection to be a serious shortcoming with the VCF option since all smartphone users – at least those who use their smartphones as more than a feature phone – invariably have data plans. Even if they don't have network coverage when they receive the business card, they can always scan it later using WiFi.
No prizes for guessing which format we eventually decided to use for QR360!