Apart from using its search engine regularly and being a customer of Google AdWords and a couple of its products, I've no personal or professional interest in Google. However, as a technology professional, I feel compelled to point out that the recent Economic Times article titled Is It Time to Sign Off is full of inaccuracies, and blames Google for many things for which it's not responsible.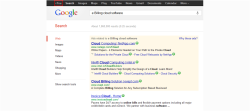 First, most users visit Google Search, run a search, click on one or more of the results, and exit Google. Google's new privacy policy does not impact them in any way. Under the new policy, Google links users' identities with their browsing habits only if they click the +You hyperlink appearing on the top left corner of the screen and sign-in by supplying their Google Account credentials. Since most users never sign-in while doing a Google search, the author Prerna Katiyar's contention that there is "nary a choice for billions of subscribers" is plainly wrong. For the moment, I'm ignoring the fact that users can switch to Bing or many other Google alternatives without incurring any cost.
Second, the writer incorrectly blames Google's new privacy policy for ads that keep "popping up no matter what website you surf, no matter where?". Such ads are called "retargeted ads". Apart from Google, there are many other providers of retargeted ads such as Bizo in B2B and ReTargeter and TellApart in B2C. These ads use cookie technology to do their job and don't need personally identifiable information (PII) gathered by Google via its new privacy policy.
Third, by claiming that Google will show job ads to people who log on to their office PCs just because they have searched for jobs on their home PCs, the author betrays her ignorance of how Google Ads work. Like organic results, Google determines the list of ads to be displayed on its search engine results page (SERP) solely on the basis of the keyword entered by the user in the Google search bar. Therefore, only an employee who enters a job-related keyword on Google Search will be caught red-handed with job-related ads on his or her office PC. For that, the employee deserves to be blamed, not just for using company resources for personal use but for being so stupid and self-incriminating while doing so. Even retargeted job ads, whether from Google or others, will be interspersed with many other ads about other topics on third-party websites. Even the most suspicious company can't question its employees about all the ads appearing on all the websites they surf.
I could go on and on but I'm sure my message is clear: Let's not blame Google for everything.