'Showrooming' is being projected as a new threat posed by e-commerce websites to organized retailers' brick-and-mortar stores. Showrooming can be defined best as "the consumer practice of using a retailer's stores as a show room, to look, touch, and feel (not to mention partake of the retailer's employee expertise, such that it might be), but to ultimately search online for the best price to actually make the purchase" (Source: Retails Systems Research). According to articles published in  The Wall Street Journal and elsewhere, showrooming is gaining popularity in the USA. It's not clear whether it has started happening in India but, with almost one in four GenY and at least 10% of older generations shopping at supermarkets wielding a smartphone (Source: Personal observation), I wouldn't be surprised if showrooming hits the Indian shores sooner rather than later.
The question is, should retailers ignore showrooming as a fad or take concrete steps to counter it. In my personal experience, showrooming is not a fad. Neither is it entirely new. Way back in the early 1990s, when I used to live in the Middle East, most price-conscious shoppers out there – which amounted to just about everyone in that part of the world – would look at a (say) Sony TV in the showroom of the authorized distributor but generally buy it from one of the mom-and-pop stores located on the high street. That's showrooming for sure. What has changed today is
Instead of the high-street discounter, the chief beneficiaries of showrooming are Amazon and other online stores. Of course, then and now, the loser remains the same, namely, the big box retailer
A larger percentage of population – including those in the USA and other developed nations – is becoming price conscious, driving greater traction for the trend
Greater penetration of smartphones
Availability of RedLaser, Amazon PriceCheck and other smartphone apps that make showrooming easier – not only to find but actually conclude the best online deal even before stepping out of the brick-and-mortar store. This removes the effort of shop-hopping – physically or digitally – to make the purchase.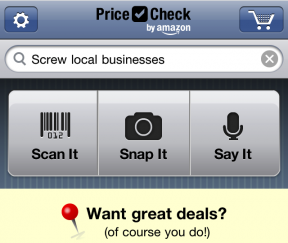 Way back in the nineties, one way that big box retailers overcame the showrooming challenge was by changing their focus to the B2B market, namely government and corporations who were building office complexes and fully-furnished residential accommodations for their employees. Since B2B purchases still constitute a sizeable volume of consumer goods in many parts of the world, this strategy could work even today.
Apart from that, brick-and-mortar retailers can spot shoppers predisposed to online shopping and proactively refer them to their own online stores where prices are often lower. This approach will divert revenues from physical stores to online and will understandably face resistance from store managers who only carry numbers for the former channel. A few American big box retailers like WalMart, Target and Barnes & Noble seem to have recognized this issue and taken steps to ensure that their store employees nevertheless behave in the overall interest of the company. Whereas others like BestBuy in the USA and Crossword in India are struggling to do this. Until they amend their outdated ways soon, they might join the deadpool, as I'd predicted in a previous post, Is CROSSWORD Heading Towards A 'BORDERS Moment'?.