A lot of water has flown under the bridge since we wrote Is It Adios To PayPal From India?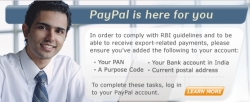 New updates to PayPal business / merchant accounts in India include:
Increase in limit for receipts against export transactions from a measly US$ 500 to a respectable US$ 3,000 per transaction. The higher ceiling should cover a bulk of export transactions for which people use PayPal (although we've customers in the USA and the UK who don't mind wire transfers for lower amounts)
Auto withdrawal of PayPal balance to the linked bank account on a daily basis – hopefully, this reduces the risk of merchants suffering from arbitrary holds placed on their accounts by PayPal.
However, in our experience, auto withdrawal doesn't happen so automatically:
If you add a new bank account now by using the "Add / Edit Bank Account" link under the "Profile" section of the PayPal website, you'll see "I would like this to be my auto withdrawal account". You need to check the box on the left of this statement. Otherwise, auto withdrawal isn't activated.
If you'd set up your linked bank account – like we did – prior to September 2011 when the auto withdrawal feature came into force, you might find that this feature doesn't apply for you by default. We realized this when we hadn't received an auto withdrawal confirmation email from PayPal even three days past the receipt of funds into our PayPal account. By chance, we stumbled on to the following procedure to activate auto withdrawal: Click the "Add / Edit Bank Account" link under the "Profile" section; Select the bank account; and click the "Make Auto Withdrawal" button. After this, you should be able to see the "Auto Withdrawal" remark appearing in the Status column.
Nowhere on PayPal's website or in any of its emails announcing the launch of auto withdrawal was it stated that it was upto the merchant to activate this feature manually. Since PayPal stands to earn interest on the float created when your money stays in your PayPal account instead of getting withdrawn to your bank account, we won't find it easy to accept oversight as the reason for this omission. This is hardly a shining example of great website usability.
On second thoughts, as long as you get your money out of your PayPal account before PayPal freezes it for one reason or the other, you should go laughing all the way to the bank instead of worrying about lack of usability.