It wasn't so long ago that I'd blogged about how one particular retailer's loyalty program actually bred disloyalty.
The ink is hardly dry on that post and I've already found another retailer that's going down the same path and is bound to lose sales as a result of its poorly conceived loyalty program.
Retailer X, as we shall call this retailer, is the retail division of a multidivision conglomerate. My family has been shopping with Retailer X for several years, so when it recently launched a loyalty program, I didn't hesitate to sign up for it as soon as it was offered to me. However, in this day and age of frictionless enrolment into loyalty programs on the basis of just a mobile phone number, it was a bit strange to find that the checkout attendant at Retailer X insisted that I had to complete a long printed form while standing at the checkout queue. I flatly refused to do this. Thankfully, the store manager saw sense and permitted me to take the blank form home, complete it at my convenience and return it to the store later.
With a painful enrolment process out of the way, I thought that I could begin to literally enjoy the – er – rewards of my labor when I went shopping at Retailer X. However, that was not to be.
Most retailers in India credit rewards for purchases on the basis of any personally identifiable information of the customer like card number, cardholder's name or even mobile phone number in case the customer has forgotten to carry their card along while going shopping or has consciously left it at home because there simply isn't enough space in their wallet for all the loyalty cards they've signed up for. Retailer X doesn't. You must hand over your loyalty card to the attendant while checking out or you lose your rewards. They don't even credit your reward points when you bring along the loyalty card and the previous bill on your next trip. I'm not demanding the superior customer experience enjoyed by users of Keyring and similar mobile loyalty programs in the USA who're used to storing multiple loyalty cards in a single mobile app instead of having to stuff them inside their wallets. But, it's quite exasperating when Retailer X doesn't even follow the generally accepted practice in India.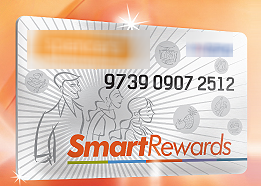 So, what do we do now? Simple: I keep Retailer X's loyalty card with me and shop at Retailer X whenever I find it convenient to do so. My wife has simply stopped visiting Retailer X now because she doesn't find it worth the trouble to remember to retrieve the card from me when she thinks of going shopping there. Funny, considering both of us used to visit Retailer X – individually or together – for several years when it didn't even have a loyalty program! But, that's typical consumer behavior for you: Having enrolled for a loyalty program with Retailer X, consumers would hate spending money there and be denied rewards by Retailer X's rigid policy. It's an irony that, after launching a loyalty program, Retailer X has actually lost a sizable share of our household budget, which is now spent at its competitors' stores. Since others credit reward points on the basis of card surrogates like name or membership number, we don't face the same problem with them. Retailer X's loss is their gain.
Now, there's a lesson in this for product managers and marketers in retail companies.
In the course of providing product management solutions to many product companies, my company GTM360 Marketing Solutions regularly comes across features that demand additional efforts from users without giving them any commensurate gain. When we recommend a suitable change to these features such that they don't tax the users, we often get push backs from engineers and product managers of the form that can be paraphrased in the present context as follows:
As a loyal customer, my wife and I would / should make the extra effort of remembering to carry the loyalty card along with us whenever we visit Retailer X individually or together, therefore Retailer X's policy requiring physical presentment of the loyalty card is not an issue.
If Retailer X feels wants to hide behind this logic, I'm sorry to say it's making a big mistake and will pay dearly in lost sales. In today's world, consumers are spoilt for choice and won't be inclined to take any additional trouble just to conform with any one retailer's misguided policies. Instead, they'll shop elsewhere. Retailer X will end up being the loser by taxing its consumers' loyalty too much.
If it thinks of bringing up 'security' to justify its policy, sorry, it won't work with me. Retailer X will face no different fate.