I've traditionally been buying books regularly to feed my self-admittedly voracious reading habit. A few months ago, I started running into a severe space crunch in my bookshelf and therefore decided to borrow books instead of buying them.
However, my experience with book lending libraries hasn't been anything to write home about. Over the last 12-18 months, I've tried and given up on two online libraries, Librarywala.com and BooksAtHome.in. I've written about my woes with the former in a previous post (in short, erratic logistics and q'jacking). While the latter has decent logistics and is insulated from q'jacking since it doesn't use a queue, its collection of books simply sucks. It accepts recommendations for new books from its members but doesn't seem to do anything about them for weeks. My plan entitles me to borrow two books at a time. When I recently found it impossible for the third time in a row to find the second book to add to my shopping cart – which is what its website uses in the absence of the queueing feature that's common to leading online rental companies – I decided to bid farewell to BooksAtHome.in.
At about this time, I came across JustBooks. From its newspaper insert, this library seemed to blend the online and brick-and-mortar worlds in an innovative fashion. A trip to its nearest store confirmed my first impression.
Unlike the aforementioned online libraries that deliver and pick up books from your home/office based on your online actions, you need to visit a JustBooks' physical store location to borrow and return books (unless you sign up for its AVID READER plan, more on that in a moment).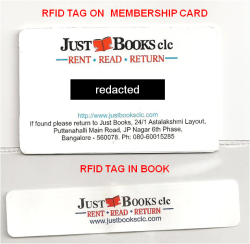 However, JustBooks makes excellent use of technology in its stores to deliver a superior customer experience. Its membership card and books have embedded RFID chips in them. To have new books issued or to return read books, you place your membership card and the stack of books on a kiosk located at the front of the store. The kiosk recognizes you based on the RFID chip embedded in the membership card and automatically logs you into your account. You simply tap on the ISSUE or the RETURN button. The kiosk automatically reads the names of all books in the stack at one go – no scanning one barcode at a time. You confirm the list, logout and off you go. That's it.
Now, if you sign up for JustBooks' highest end plan called AVID READER, you get to experience "order online, ship from in-store inventory", which is one of the most cutting-edge omnichannel retailing practices according to analysts like RSR Research. Customers of this plan can order a book on JustBooks' website and the nearest physical store will deliver it to their homes. I asked the owner of a JustBooks franchise how it could afford the cost of home delivery, especially in the low value book lending business. She told me that that JustBooks is hoping to recover the higher costs through substantially higher revenues. This is entirely possible considering that the store-to-home feature is restricted to JustBooks' most expensive membership plan. Unlike other plans where customers pay a small amount on a monthly basis and can walk out anytime after the initial three months' lockout period, the costliest plan locks in the customer with an upfront payment for one full year, which results in 20X greater revenues. As an aside, this example shows that it's possible to adopt innovative practices that fulfill customer's needs better, and, in the process, upsell and boost topline without necessarily sacrificing bottomline.
It's still early days for me with JustBooks. Much as I found their process and technology innovative, I wasn't too impressed with their staff. One of them was perpetually grumpy, another was highly patronizing and the third one couldn't speak English and doesn't belong in a lending library for English books. They might need one more kiosk to handle peak rush. I don't like it that they charge a 2% 'convenience fee' for paying monthly fees online. They keep whining about accepting credit card payment for monthly fees even though they confirmed to me at the time of signing up that I could always pay by credit card and also prominently display a "credit card welcome" sticker on their door. Given my not-so-great experience with the two aforementioned online libraries, I'm keeping my fingers crossed with JustBooks. But, whether I stick around around with JustBooks or eventually order another bookshelf, its novel business practice and innovative use of technology must be noted. Consider  it done.