Ever since it was launched a few years ago, I've been a major fan of Google Toolbar. So much so that Google Toolbar was one of my first submissions to Free Web Toolbars, a website that contains, among others, a directory of web toolbars that are available for free.
In those days, I was using Internet Explorer 6 or 7. Once the Google Toolbar was installed on IE, I could run a Google Search right from the browser, without the need to first visit www.google.com.
Thanks to IE8's unstable behavior – with several websites I visit frequently crashing on it – I made the move to Google Chrome a few months ago. I found out early on in my adoption of Chrome that I could type in the search term right on the address bar of Chrome and hit the enter key to get Google Search results immediately, without having to visit www.google.com.
So, in my initial days of using Google Chrome, it appeared to me that there was no need for a separate Google Toolbar. I soon realized that I was wrong!
On Internet Explorer, if I wanted a map of a certain place (ex: Ulster), I could enter its name on the search box of Google Toolbar, drop down the list to the right, select Google Maps and be taken immediately to the Google Map of the place, without having to go to the home page of Google and then selecting Google Maps. The same is true for Google Images, Google News and many other frequently used Google services.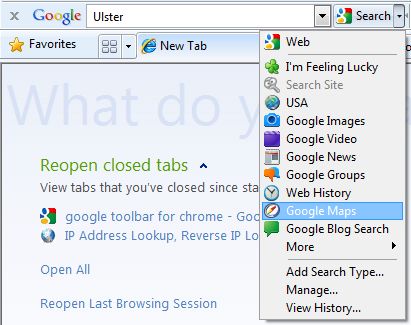 As far as I could make out, there's no equally easy way of doing such a thing on Google Chrome, so I recently decided to download Google Toolbar for Chrome and install it on my PC.
Lo and behold, I found out that Google Toolbar is not available for Google Chrome!

This is most surprising, to say the least. If there's some logic behind Google's decision to avoid coming up with a version of its own toolbar for its own browser, it beats me!
I strongly miss Google Toolbar and have started tracking the progress on general availability of Internet Explorer 9. The day I hear that it's stable, I might just head back to the world of browsers made by Microsoft and toolbars made by Google.