Indian offshore-centric IT services firms have created a multi-billion dollar business from nothing in less than three decades. Companies, large and small, have accomplished this by riding the wave of lower costs to offer a broad range of services to overseas customers.
Now, according to this report, it looks like what got them here won't get them there. For the first time, there seems to be a great divide between the giants and the others. While India's top technology firms including TCS, Infosys, Wipro and Cognizant grew their revenues in double digits, Mastek, Patni, Tech Mahindra and many other Tier-2 and Tier-3 companies actually saw a sharp fall in their revenues and profits recently. Analysts find a negative surprise in the latest quarter results of midsized and small IT firms.
While the report covers the reasons for the divergence in performance between the top tier companies and the others, it's interesting to look at the recommendation it offers to small and midsized companies to get back on their high growth trajectories. According to the leading IT analyst firm Forrester Research quoted in this report, "these firms need to focus and specialize instead of trying to mirror the multi-service offerings of the large players".
This might appear to be somewhat counterintuitive besides sounding easier said than done.
For most companies, it won't be easy to figure out where to put their focus: after all, they've come this far by demonstrating a spirit of "can do everything for everyone" for as long as they've been in existence. Besides, after reaching their present size by offering a very broad canvas of services, leaders in such companies might wonder how it's even conceivable to grow their revenues by actually shrinking their offerings.
Both concerns are valid but GTM360 can help address them with what we call Marketable Items.
Marketable items package a company's products and capabilities into compelling reasons to buy that resonate strongly with the target market's pain areas and hot topics. If they don't create gain, they must solve pain. A few examples of marketable items are given below.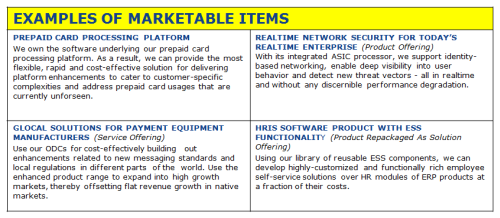 Since marketable items are created around a company's internal strengths and differentiators, they provide the ideal framework for specialization. By resonating strongly with the target market's pain areas and hot topics, marketable items boost the effectiveness of a company's marketing efforts to tap into a larger segment of the addressable market, thus helping them grow revenues.
The following success stories illustrate the effectiveness of marketable items in practice.
SAP SERVICES PARTNER Enters FORTUNE 500 Corporation: Marketable items appeal to C-Suite
American Widget Maker Grows Revenues Manifold: Frictionless online solutions convert browsers to buyers
Payments Solutions Provider Boosts Sales Pipeline: Marketable offerings give a shot in the arm to inside sales
With real-life examples from India and abroad serving as lighthouses, Indian IT services companies can use marketable items to focus and specialize, confident that they can achieve high growth despite shrinking their offerings.