Like most Catch-22 readers, I found its characters hilarious and their ploys convincing but never imagined that I'd come across their likeness in real-life.
Well, I'm now not so sure.
Charles Tyrwhitt seems like Chief White Halfoat in reverse.
COBRA could be as much in demand as Colonel Cargill's services.
Instead of following balance sheets with bloated CDOs as alarm bells for the next bank stock that's going down, FORTUNE magazine advises us to watch the movements of British shirt seller Charles Tyrwhitt. It appears that, wherever Charles Tyrwhitt goes, banks close! It has shops in two New York City locations – one at 377 Madison Avenue, in what was once Bear Stearns' headquarters, and the other at 745 Seventh Avenue, in the Lehman Brothers building.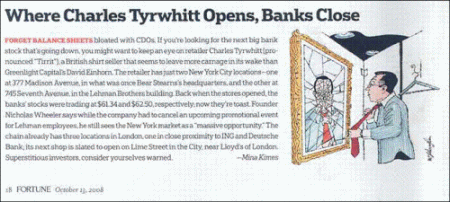 In Catch-22, every place Chief White Halfoat pitched his tent, oil companies would sink a well. Every time they sank a well, they hit oil. And every time they hit oil, they made him pack up his tent and go someplace else.
Over a period of time, oil companies could guess where Chief White Halfoat was going to stop next so that they could begin drilling even before he got there. For its readers, FORTUNE takes the guesswork out by revealing where Charles Tyrwhitt plans to open its next store (Lime Street in London, near Lloyd's).
Inspired by financial instruments named after animals like Lehman's LION and TIGER from Merrill Lynch, Rajrishi Singhal suggests some more in a recent Economic Times column. Named COBRA – or Collateral Based on Reducing Assets – this instrument might become popular with profitable companies seeking losses for claiming tax breaks.
Remember Colonel Cargill in Catch-22? Before joining the army, he was a marketing executive. He was such a lousy marketing executive that he could run the most prosperous of businesses aground and deliver losses which could be used for claiming tax breaks. He enjoyed high prices and massive demand, for "failure often did not come easily".
After Chief White Halfoat and Colonel Cargill, I wonder if we're going to encounter the likeness of Milo Minderbinder anytime soon. Despite buying eggs at seven cents apiece in Malta and selling them to his mess hall at five cents apiece, he was able to convince his syndicate that he was making a profit of around three and a quarter cents apiece. He kept them happy by promising that "everyone had a share".
Or, from the recent turmoil in the financial industry, can we infer that a number of Milo-like characters have already been at work in the last few years?